Joe Goldberg Has Found His Next Obsession: Cardi B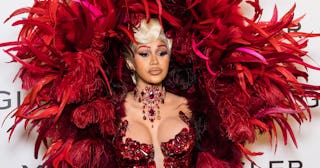 (Richard Bord / WireImage via Getty Images)
You's Joe Goldberg, expertly and unnervingly played by Penn Badgley, has found his new obsession, and it's the one and only Cardi B
Watch out, Offset, or you might be added to Joe Goldberg's ever-growing list of collateral victims in his quest for love, as Cardi B just received a little momento from Joe. Cardi of two shared a photo on Twitter of a dark blue baseball cap — a sartorial favorite of Joe's — with the words, "Hello, You…" embroidered on the front. "How Joe found my new house adress?? [sic] 😳😳" she tweeted.
She's also holding a chilling note from Netflix's star stalker, which opens with, "My stalking and killing may make me a certified freak, seven days a week, but it also brought me to… you."
Joe then waxes poetic about Cardi's social media prowess and how she is truly herself
"You're meaningful. Substantive. I just like you. You're authentic and nuanced… just as you are with your music. You keep me on my toes, the ones that are left, at least. You can't be caged in, and it's refreshing."
Joe then adds that he "can't wait" to see Cardi "slaying in this hat," adding, "but I certainly hope you don't disappear." Hinting at what is to come following the wild ride that was You Season 3, he signs off with a very French "Au Revoir." Joe (via the Netflix Twitter) even replied to Cardi's question of how he found her address…
Let's be real though. If Joe were to try to take down Cardi, we're putting money on the Queen. Fans had their own takes of how this would all go down. Of course, Joe has already taken care of Offset.
Or he will be doing so in the immediate future.
https://twitter.com/jetpack/status/1456435891858288654
Others noted that maybe Offset and the rest of Migos could use the cage as a sort of artistic retreat, or at least a source of lyrical inspiration.
One of the best parts of the tweet, though, has to be how Cardi is clearly in the midst of doing her nails, meaning that as soon as she received this, she shared it with the world — a smart move if a notorious stalker ever happens to track you down!
And don't worry, Cardi, Joe would totally be down to help with your nails. He admires your creativity and selectiveness, after all:
https://twitter.com/jetpack/status/1456433953209036810
If anything, some fans are hoping that this means Cardi will at least make an appearance in the fourth season of You… although fans recommend that her character not be Joe Goldberg's neighbor, thank you very much.
https://twitter.com/jetpack/status/1456414490812059661
You has already been confirmed for a fourth season, although we're not sure on an exact release date. There's definitely still time for Cardi to make an appearance in the show, at least a cameo. Hear our prayer, Netflix gods. Make this happen.