I Was A Caregiver For My Mom, But I'll Never Ask My Son To Do The Same
by Meredith Rainey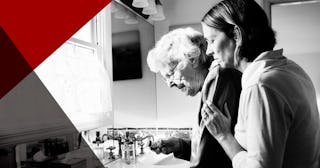 Scary Mommy and Camille Tokerud Photography Inc/Getty
She asked for a napkin to wipe the spaghetti sauce from her mouth, but all I had was a tissue, so I handed her that. She clumsily wiped her lips and cheeks, missing a few spots, and handed it back to me. She hardly ate at this point—she was so thin and weak, on painkillers, and had lost interest in food. I was happy to oblige when she surprised me by requesting a spaghetti dinner. She only ate about a dozen noodle strands, but it was something and she enjoyed it.
RELATED: 36 Caregiver Quotes And Poems Sure To Buoy Your Spirits
Flashbacks of my mom's battle with ovarian cancer sneak up on me, sometimes out of the blue, but more often when I'm in the trenches of daily life with my 11-year old son. As I fold his video-game themed t-shirts and sort his endless socks, I sometimes imagine him in my place, with a family of his own, worried about how he'll care for me if I need it.
I think about how I traveled to my parent's house after a full day's work at least three days a week (and on weekends) to give my poor dad a few hours of relief. After caring for my mom for more than two years, his skin was pale and his usual sparkling smile had dimmed. Even his posture was noticeably different; the gravity of being my mom's full-time caregiver had weighed down his body, mind, and most importantly his heart.
At this point, my mother was dependent on my father, brother, and me to help her with dressing, bathing, eating, and getting in and out of bed. My parents didn't have any private insurance to cover such services, so we all pitched in. My brother and I had long since left the nest and were leading our own adult lives in different cities. Thankfully, we were still close enough to help ease my dad's burden and be there for our mother as her long battle with ovarian cancer began to enter its final chapter.
My father owned his own printing business for more than four decades. When my mom first got sick, he still worked full-time. As her condition worsened over the course of two years and he struggled to balance her needs, he made the difficult decision to sell his business and work for the buyers part-time. Eventually, he was forced to give up working entirely.
The financial hit my parents took during this period was not nearly as damaging as the mental and emotional toll it took on my father. He was a very extroverted guy and work was one of his regular social outlets. When he gave that up and was home with my mom full-time, he in large part stopped being himself. My mom didn't want people to know she was sick, so that meant my dad didn't have support outside of our immediate family. As for me and my brother, we struggled with balancing my mom's care with full-time jobs and relationships, while managing the stress, sadness, and guilt that often goes along with having a loved one with a chronic health condition for which there is no easy fix.
My story is not unique. According to the AARP Public Policy Institute, taking care of a loved one is a reality for more than 40 million Americans who provide an estimated value of $470 billion a year in unpaid caregiving services. Many of these people also fall into the "sandwich generation" and are squeezed between caring for both their parents and children at home. In fact, a recent survey from T. Rowe Price found that 35 percent of parents with 8- to 14-year-old kids are also caring for an aging family member. Imagine having to ensure 24-hour care for a loved one while working and maintaining all of your regular parenting duties. It's a lot to expect of anyone.
While being able to provide care is in some ways a blessing and most are happy to do it, it's not easy. The physical and emotional burden of caregiving is somewhat obvious, but it also has a financial impact. According to the same AARP study, family caregivers over the age of 50 who leave the workforce to care for a parent incur average income and benefit losses of more than $300,000.
As I reflect on my own experiences with family caregiving, I shudder to think about my son being in my shoes one day. While I know he'd willingly do whatever might be needed for his dear old mom, it's not a responsibility I want him to bear, especially not alone. I'd rather he have the luxury of being able to manage my care rather than having to provide it himself.
I'm fortunate to work for a company that has taught me the value of creating a plan and exposed me to the many options that exist to help make caregiving a little easier on those who provide it. I've learned that planning ahead and evaluating options to cover some of the cost of future care can not only ease the burden on family members, but also help protect retirement savings by providing a dedicated source of funds to cover care costs. I also know that thinking about and planning for these things now, while I'm young and healthy, will give me and my family more options at a lower cost than if we put it off and hope that we never have to deal with it.
If there was any blessing in my family's caregiving experience, it was that my mom was able to spend her last days in the place she felt most comfortable—at home. I didn't know it at the time, but that night I served her spaghetti was the last night I saw her alive. As I walked out of my parent's bedroom at the end of that visit, my mom told me something that I have carried with me ever since. Her last gift to me was to share her philosophy and an indication of her faith despite knowing she was very short on time. She said, "Meredith, kick your feet up and don't worry about a thing. I love you." I love you too mom. So much.
This article was originally published on