Carey Hart And Pink Posted Pics Of The Whole Fam On Dirt Bikes And DGAF What You Think
by Thea Glassman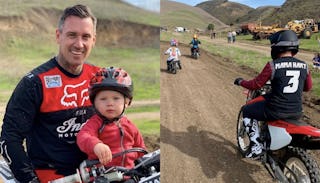 Images via Instagram/Pink/Carey Hart
Carey Hart and Pink took their kids for a ride on dirt bikes and they're really living their best lives
There are many, many reasons to fall in love with the entire Pink/Carey Hart family. Remember that time when Pink released the powerful anthem "Wild Hearts Can't Be Broken" and featured her daughter in the music video? And that other time that Hart posted like nine million ridiculously adorable tributes to his wife and kids on Instagram?
Well, here's one more reason to fall for the whole fam. The couple took their kids on a dirt bike adventure because that's exactly the kind of badass, cool thing that they would do. And, no, they don't care at all what the internet trolls think.
Pink posted a picture of herself riding on dirt bikes with her 7-year-old daughter Willow, alongside the caption: "Rippin' with my girlie." And, yup, she IS indeed wearing a jersey with the words "Mama Hart" written on the back. Not trying to be too demanding here, but it would be pretty ideal if Pink could become all of our best friends right about now.
Hart posted some snapshots from the family's day of adventuring as well. He kept their one-year-old son Jameson on his lap, who he said had his "race face" on. "Jamo is dirt bike crazy, and got to take him on some fun rides," Hart wrote. "Willow and mama @pink were charging the track. Love days like this!!!!"
The motorcyclist and former professional freestyle motocross competitor also had a message for the army of internet trolls who would inevitably crawl into the comment section to share their thoughts on the kids dirt biking. "Don't worry parent police, I'm a professional," Hart noted.
Surprisingly, for the most part, comments skewed towards the positive. A lot of people applauded the couple for doing such fun activities with their kids and recounted their own childhood memories of riding dirt bikes. When one user sarcastically wrote, "Nice eye protection for the kid," Hart responded, "Move along," according to E News.
Judging by Hart's Instagram account, dirt bikes are definitely a hobby the family is super into, and Hart definitely knows what he's doing.
Also, toddlers in dirt bike helmets are officially the cutest thing on the planet. Come at us.
Yup, you keep rising above the negativity, Carey. Plus, nobody wants to mess with Mama Hart.
This article was originally published on