Carnation Breakfast Essentials Just Dropped A Collab With Our Favorite Cereals, And OMG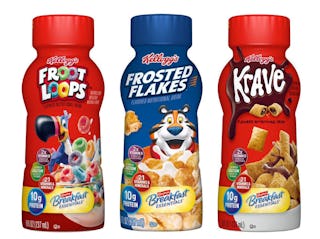 If your birth year starts with a "19," you grew up eating cereal. Don't @ me — we all did! Remember reading the whole box while you slurped down a bowl? Or beating your siblings to the prize at the bottom of the box? Those were the carefree, delicious moments of childhood we'll always remember with nostalgia.
Well, my cereal-loving besties, I've got good news for you. Now you can experience these flavors in a whole new way with Carnation Breakfast Essentials® Flavored Nutritional Drinks. They collaborated with some truly iconic flavors — hello, Kellogg's® Froot Loops® — to bring you a convenient breakfast drink that's delicious and nutrient-packed! That's right, we can share the classic flavors we love with our kids in a grab-and-go drink packed with the same protein, vitamins and minerals as the original Carnation Breakfast Essentials® Nutritional Drinks — genius!
Yep, Breakfast Is Still The Most Important Meal Of The Day
We've all heard breakfast is the most important meal of the day since nutrients missed at breakfast are unlikely to be made up later in the day. A morning meal helps get a head start on key nutrients so that families can start the day right. And while it can be difficult to make sure your family is getting a protein-and-calcium-rich breakfast when you're balancing the morning household chaos, new Carnation Breakfast Essentials® Flavored Nutritional Drinks help us do just that — they are absolutely delicious and provide 10 grams of protein plus 21 vitamins and minerals, including calcium, to help meet daily nutritional needs and help fill nutritional gaps.
These breakfast drinks are packed with as much protein as 1½ large eggs, as much vitamin D as two 8 oz. glasses of milk, and as much vitamin C as one medium orange — a morning nutrient punch that you can feel great about.
Convenient And Delicious? Yes Please!
The Carnation Breakfast Essentials® Flavored Nutritional Drink lineup is filled with flavor variety, providing an option for everyone. And honestly? The ease and convenience of a delicious on-the-go breakfast drink that provides 240 nutrient-rich calories with 10 grams of high-quality protein and 21 vitamins and minerals is kind of a game changer. Just grab a ready-to-drink bottle as you head out the door — it can't get any simpler than that.
The other great thing about these nutritional drinks is that they are great at home or on-the-go, for breakfast or between meals. I don't know about you, but an ice-cold bottle of Carnation Breakfast Essentials® Kellogg's® Frosted Flakes® Flavored Nutritional Drink sounds exactly like the kind of after-gym drink I can get behind. The Froot Loops® flavor makes me want to go find my virtual pets, make a few friendship bracelets and escape to a simpler time when going to the gym wasn't even a thing.
Multitasking We're 100% Here For
We manage about a thousand aspects of our own lives while also managing two thousand things for our family's lives. We're always hunting for the right mix of "good for them but also convenient." We want to make sure our families get the nutrients they need to start the day right, but we also want to provide it in a form they'll actually, you know, consume.
Carnation Breakfast Essentials® Flavored Nutritional Drinks are not only packed with essential nutrients, they're also convenient and delicious, which is kind of the perfect trifecta for starting their day off right. Being able to share the flavors we loved, like Kellogg's® Froot Loops®, Kellogg's® Frosted Flakes®, Kellogg's® Krave®, and Golden Grahams™ in a breakfast drink they'll love is a win for everybody.
Give your family nutrient-packed Carnation Breakfast Essentials® Nutritional Drinks to start their day right, now available in iconic flavors. Carnation Breakfast Essentials® Nutritional Drinks are nutritionally appropriate for ages four years and older, including teens and adults.
KELLOGG'S and affiliated trademarks are owned by Kellogg NA Co., used with permission. Golden Grahams™ and associated words are designs and trademarks of General Mills, used under license. ©General Mills. All trademarks are owned by Société des Produits Nestlé S.A., Vevey, Switzerland, or used with permission. ©2021 Nestlé.
This article was originally published on