Carnival Cruise Line Will Pay $20 Million Penalty For Environmental Crimes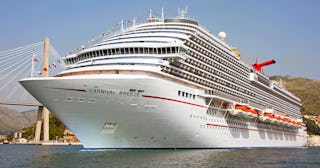 Andy Newman/Carnival Cruise Lines/Getty
Carnival Cruise Line will pay a hefty fine for polluting the oceans
A U.S. District Judge in Miami just ordered Carnival Cruise Line to pay a $20 million fine for deliberately polluting the oceans with plastic waste and other environmental violations.
This comes after Carnival's subsidiary, Princess Cruise Lines, paid $40 million for other acts of deliberate pollution. This case has been working its way through the courts for years, and during that time, both Carnival and Princess have continued to violate environmental laws.
"You not only work for employees and shareholders. You are a steward of the environment," Judge Patricia Seitz told Carnival CEO Arnold Donald, who was at Monday's hearing with a number of the company's other senior executives. "The environment needs to be a core value, and I hope and pray it becomes your daily anthem."
The most recent violations were discovered when a whistle-blowing engineer reported that Carnival and Princess ships were outfitted with a device they called a "magic pipe," which let them bypass their water treatment system and dump contaminated waste straight into the ocean. The companies also tried to cover this up when investigations began, according to the Justice Department.
Carnival Cruise Line was already on probation Monday when it pleaded guilty to six criminal counts, one of which was dumping a mix of plastic and food waste into Bahamian waters. The company also admitted to falsifying training records, sending teams ahead of inspections to correct violations, and contacting the Coast Guard to "try to redefine what would be a 'major non-conformity' of their environmental compliance plan," according to NPR.
Donald expressed remorse when speaking to the judge.
"I sincerely regret these mistakes. I do take responsibility for the problems we had," he said. "I'm extremely personally disappointed we have them. I am personally committed to achieve best in class for compliance."
Carnival has been charged, investigated and fined in the past, but the violations, dating back to 1993, have continued despite environmental protection laws.
Environmental group Stand.earth said the $20 million fine "cannot even be characterized as a slap on the wrist."
Kendra Ulrich, a senior shipping campaigner at Stand.earth, said in a statement, "Today's ruling was a betrayal of the public trust and a continuation of the weak enforcement that has allowed Carnival Corporation to continue to profit by selling the environment to its passengers while its cruise ships contribute to the destruction of the fragile ecosystems they visit."
In light of the violations, Judge Seitz has threatened to block Carnival cruises from docking at any U.S. ports. She also asked the company's senior executives to attend Monday's hearing as she felt they weren't serious about complying with environmental laws.
This article was originally published on