Family Of Carole Baskin's Missing Husband Shocks Viewers With Ad During DWTS
by Christina Marfice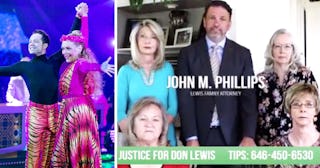 Eric McCandless/ABC and KFCBarstool/Twitter
Carole Baskin made her ABC debut last night — and so did the family of her missing husband, Don Lewis
For better or for worse, 2020 has given us another gift: Carole Baskin, the crazy cat lady who featured heavily in the bonkers Netflix docuseries Tiger King, is competing on Dancing With the Stars. A large part of her involvement in Tiger King centered around the mysterious disappearance of her former husband, Don Lewis — and questions about whether Carole played a part in his going missing. The docuseries brought forth such compelling evidence that a Florida sheriff reopened Lewis's missing person case after it aired.
Don Lewis's family still wants answers about what happened to him, so they made a commercial asking the public for help and any information anyone might have. And in the ultimate power move, they ran that commercial on ABC during the premiere night of Dancing With the Stars, before Carole Baskin made her big debut as one of this season's contestants.
In the ad, the family members introduce themselves, one-by-one: Gail, Lynda, and Donna, Lewis's daughters, and Anne, his beloved former assistant. They each take a turn sitting in front of the camera to say what Lewis meant to them. "We are a real family, and to us, he was Daddy," Gail says. "We miss our dad," Lynda adds. "We need to know what happened to our father," Donna says.
They say that they're looking for "justice for Don," who disappeared in 1997. And they aren't tiptoeing around the issue: "Do you know who did this, or if Carole Baskin was involved?" a narrator asks.
The commercial also says the family has funded a $100,000 reward for any information about Don's disappearance.
Reactions to the ad have been mixed. There are people who are just entertained by the spectacle of it all, of course. But plenty of people are upset that Baskin was cast on Dancing With the Stars to begin with.
Baskin is far from the first controversial "celebrity" to compete for the Mirror Ball — DWTS was also criticized when it cast Sean Spicer last season.
Unfortunately for Don Lewis's family, opportunities to run that commercial while Baskin is competing may not last long. Her strange, stilted dance to "Eye of the Tiger" netted just 11 points from the judges, the lowest score of the night. She was edged out even by former NBA star Charles Oakley, whose entire dance at one point was just him standing on the dance floor and clapping his hands off beat. It's probably for the best.