Carole Baskin Somehow Survived Last Night's DWTS Elimination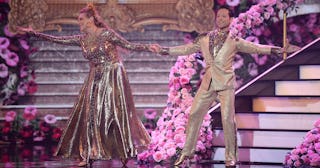 ABC/Eric McCandless
Everyone get ready for Carole Baskin to dance to something from Aristocats
One of the latest gifts that 2020 has given us that absolutely no one asked for is Carole Baskin competing on Dancing With the Stars. As literally anyone could have predicted, she's a very bad dancer, but she somehow managed to squeak by the first elimination on Monday and will dance again during the show's upcoming Disney week. We're just assuming right now that her song choice will definitely be "Everybody Wants to Be a Cat" from Aristocats. I mean, what else would it even be?
During Monday night's episode, Baskin danced to "What's New Pussycat," and even haters had to admit that she did a much better job than she had the week before, when she stumbled around the stage to "Eye of the Tiger." Those who defend her place on the show might even mention the set that was designed for her dance, which included rose-covered stairways and a towering portrait of a cat dressed in a Victorian collar.
Was it bizarre and ridiculous? Yes it was. Was it also true to everything we know Carole Baskin to be? You betcha.
Baskin, who shot to fame for her role in the Netflix docuseries Tiger King, is probably the most controversial contestant on this year's season of Dancing With the Stars. Before she performed her Viennese Waltz, a clip was shown of her tearfully explaining how negative attention from the media has made this year super hard for her, as if she didn't choose to participate in a documentary where she posed holding the end of her naked husband's leash. But OK, Carole. Go off.
Much of the controversy has been around questions about whether Baskin was involved in her ex-husband's disappearance in the '90s. Evidence put forth in Tiger King was so compelling, Florida law enforcement reopened their investigation after it aired.
In the end, Baskin was in the bottom two alongside NBA star Charles Oakley, who, despite being an objectively awful dancer, is really fun to watch. Unfortunately, judge Derek Hough broke a tie about who to send home, and it was Oakley who was sent packing. Baskin lives to dance another day.
What we may have here is a Sean Spicer situation, where voters are stuffing Baskin's virtual ballot box to keep her on the show, whether she deserves to be there or not. But her bottom two placement came after a vote from viewers, so we have a feeling Carole's Disney dance might just be her last.