Carson Daly Shares 'Goodbye' Note His Late Mom Wrote Him 20 Years Ago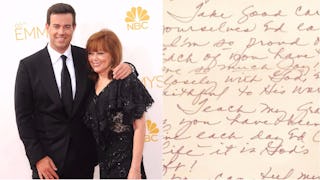 Image via Albert L. Ortega/Getty Images/Instagram/Carson Daly
Daly lost his mom last month
After losing his mother suddenly last month, Carson Daly is now back to work at the Today Show and also, sharing something very personal he found that his mother wrote years ago.
Daly lost his mom, Pattie Daly Caruso, to a heart attack on September 17th. She was only 73, and her death wasn't the first time Daly and his family was confronted with the idea of her not being around anymore. In 1998, she battled breast cancer, and during those difficult months, she wrote a letter to Daly and his sister to say "goodbye."
Daly shared a photo of the note with the caption, "My sister & I just discovered this "goodbye" letter Mom left in her desk drawer. It was written in the thick of her breast cancer battle. She clearly thought she might not make it. We never knew. This was 1998. She lived almost 20 years longer. She survived and thrived. Never give up."
What a gut punch to find this letter after losing her, but it sounds like Daly is taking comfort in his mother's words from so many years ago.
In the note, she tells her kids to take care of each other and makes sure they know how proud she is of them. "Each of you have brought me so much joy! Walk closely with God and be faithful to His word," she writes.
And years before Daly had any children, his mom was thinking of them too. "Teach my grandchildren as you have been taught. Live each day and celebrate life — it's God's greatest gift!"
The last line will leave any mom sobbing. "You can feel my love even now — know I am with you always. Your Mommy."
Daly sharing the bittersweet image today is significant, as this is his first day back to working on the Today Show since her passing. On his appearance this morning, he said he's "still in shock" over losing her, but still passed on his thoughts to those who lost loved ones in Las Vegas this past Sunday.