Jessica Alba's Husband Wrote Her A Birthday Message That Even Chrissy Teigen Is Jealous Of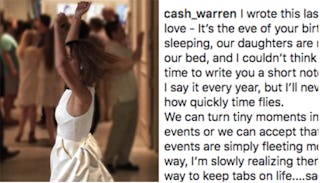 Image via Instagram/Cash Warren
Alba's husband nails his birthday message to his wife
No matter how long you've been with someone, it means something to hear how they feel about you. It's easy to get caught up in the day-to-day, especially when you have kids and work obligations, so taking the time to tell your partner how you really feel about them is a gift. Lucky for actress, entrepreneur, and mom of three, Jessica Alba, she found a person who does just that
Alba celebrated her 37th birthday this week, and her husband, Cash Warren, decided to take to social media to let her know exactly how much he adores her.
"My love – It's the eve of your birthday, you're sleeping, our daughters are next to you in our bed, and I couldn't think of a better time to write you a short note," he wrote on Instagram on her birthday Eve. "I say it every year, but I'll never get used to how quickly time flies."
Their love story began when she was filming Fantastic Four in 2004. They married in 2008 and have three children together: Honor, 10, Haven, seven, and son, Hayes, four months.
"We can turn tiny moments into landmark events or we can accept that landmark events are simply fleeting moments," he continued. "Either way, I'm slowly realizing there's no real way to keep tabs on life….sadly, the specific memories fade but somehow we're able to hold on to the feelings those memories create. And those feelings shape who we are and who we'll become."
It's such a simple, yet powerful sentiment. Life goes by so fast and before you know it, you're looking back wondering how you got to this moment. A time when first anniversaries turn into tenth, when your "babies" are in high school, and you're lucky enough to look over at the person next to you and still be so in love.
My husband and I have been together for 10 years and he still leaves me random notes around the house or in my suitcase when I travel. It doesn't take much but it means everything, even if some of them say, "You are the best woman on the planet. Can you pick up the dry-cleaning today?"
Of course, at least one of their funny friends had to weigh in on the sweet moment:
"If I could thank you for one thing on your birthday, I'd thank you for giving me all the feelings," Warren said. "Cheers to you and another 365 days of having all the feels!"
This article was originally published on