A Sister's Request For Toy Trucks For Her Brother Becomes The Feel Good Story We All Need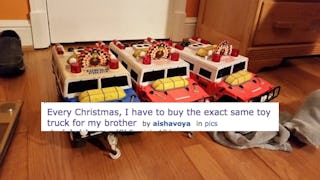 Image via Imgur/Reddit
Cassie Gretschel's brother Max only wants one toy for Christmas, and the internet delivered
If you're in need of some good old-fashioned holiday heartwarming, you're in luck with this story. In an Imgur post titled "Mission Impossible," Cassie Gretschel shared she was desperately searching for a discontinued Tonka truck for her brother Max, who has special needs.
The problem is that Tonka stopped making the truck nearly 17 years ago, which makes them pretty difficult to find. Enter: the internet.
Sometimes the internet is good, and this is definitely one of those times.
"My brother, Max, is 25 years old and mentally about a 5 year old," Gretschel shared on Imgur. "He's mentally and physically disabled and the only thing he wants for Christmas is a Blue Police Hummer truck, made in 2000."
She says he "plays with them for hours daily" and she, along with her parents, have searched for and purchased different versions of this specific model truck on eBay for years. "A lot of them have broken down and been used for parts over the years," she wrote.
Max loves the toys so much, Gretschel, an artist, even tried replacing specific parts by creating her own. She says her family makes sure Max has one under the tree, ready to open every Christmas. She ended her post by asking those who may have this model truck lying around their house to "please throw it on eBay!"
Well, it sure didn't take long for people to take action. Redditors saw the original post and immediately tried to help.
Before long, Tonka came to the rescue on Facebook.
Tonka said they caught wind of Greschel's request, and they were taking action to make sure her brother's Christmas wish was granted.
"This is the exact reason we do what we do. We love hearing stories like this and we will do everything in our power to help. We currently have our team searching through our warehouse archives in the US and China for the 2000 Fire Rescue Hummer. We hope to be able to send them as many as we can find as well as a giant Tonka care package. Giving is the true spirit of Christmas, and we would not be where we are today without our fans and customers. We live to give back whenever we have the opportunity to do so. This story touches our hearts and we hope to make this special fan's Christmas extra special!"
I don't know about you, but picturing a bunch of Tonka employees searching high and low for as many models as they can find for sweet Max is making it pretty dusty in here! Plenty of Facebook users seem to agree.
Picturing Max opening up his favorite trucks for years to come honestly made my heart grow three sizes. What a lovely story.
This article was originally published on