Purrfect Swag For Your Cat-Obsessed Kid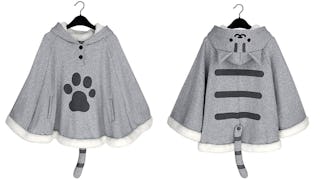 Image via Amazon
Your cat-obsessed child will love all of this extremely adorable swag
Is your kid a pint-sized cat lady? Do they spend the majority of their quality time with the family pet? If so, I'd like to turn your attention immediately to this gift guide, filled with so much purrrfect swag (sorry, not sorry).
Warning: infinite amounts of cuteness up ahead.
It's pretty damn impossible NOT to fall in love with this adorable little number. Now, if only it was socially acceptable for grown-ups to wear cat ear capes as well.
Want to up your kid's cat swag game even more? This comfy cloak features cat ears on the hood AND its very own tail. Your family cat might be a little pissed about the new competition but it's a small price to pay.
Winter is just around the corner and this mini cat puffy jacket is the perfect solution for chasing the cold blues away. It'll keep your kids warm and up the cuteness factor in the house by about 100.
Overalls will never go out of style, and I refuse to hear otherwise. Especially when they involve a cat face and little cat ears. Again, very much wishing this was socially acceptable for adults.
Christmas is just a few short months away and this sweatshirt should be mandatory for your feline-obsessed kids. Santa Claus ain't got nothing on Santa Claws.
The chilly weather will be much, much more bearable with these very furry, cozy cat slippers. And, yes, totally appropriate for you to snag a matching pair.
While we're on the subject of loungewear, you're probably going to want to get your hands on this oh so cozy, bubblegum pink bathrobe. Bonus points: it might just make your kid a wee bit more excited about bath time.
This hoodie is for true cat fans and true cat fans only. It features cat ears, a cat face, and comes complete with little paws. Win-win-and definitely win.
Is there really any better accessory that a very bright purple cat purse? This one should definitely be paired with cat overalls for the chicest feline-themed outfit out there.
Now, go buy all the cat swag for your kids. Prepare to experience a (large) dose of jealousy.
We are a participant in the Amazon Services LLC Associates Program and may earn fees by linking to Amazon.com and affiliated sites.
This article was originally published on