Cats Posing As Pin-Up Girls Are Your New Favorite Thing
by Jerriann Sullivan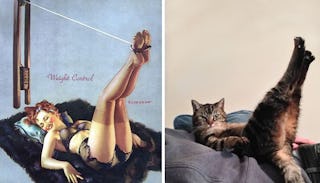 These revised pin-ups have major cat-titude
Cats own the internet. From Grumpy Cat to Cats In Space, our feline friends rule the world wide web. And you're going to love their latest trend – cats posing as pin-up girls. Technically humans are behind the purr-fect pictures, but the cats steal the show fur real.
Is there anything better than a cat wearing a sweater? Adorable. Before cats took over everything, pin-up girls were a seemingly perfect American sweetheart. And paired with cats, they're paw-some.
Everyone knows cats make great cheerleaders. This clever combination came about thanks to Australian creative designer and marketer, Rachael Aslett.
"I saw a picture on the internet of a cat being compared to an olympic diver, and it sparked an idea in my head," Aslett told Scary Mommy. She created a series of side-by-side images that featured a pin-up girl and a cat rocking the same pose thanks to images she found on Google. The above cat looks beyond annoyed that it's being photographed in a compromising position.
Work that tail, kitten! Once Aslett created enough pictures like the one above she created a Tumblr blog for them and titled it Cats That Look Like Pin-Up Girls.
And, of course, users of the web didn't disappoint – people love Cats That Look Like Pin-Up Girls and frequently make their own creations and send them into Aslett. This furry friend in the above shot looks much more scared than the pin-up model, but we'll take the hilarious mashup anyway.
Bonus points for this pin-up recreation that features a whole extra cat. Technically, Aslett created the blog a few years ago, according to Distractify, but it's still popular because cats never go out of style.
"I can't believe people are still interested in my silly cat pictures," the designer wrote on her Facebook page for the blog that has almost 10,000 fans alone.
Who knew cats were so good at striking a pose? If you'd like to see the purr-gress (sorry, we really can't help ourselves) of Aslett's creations check out her blog or browse the hashtag #catsthatlooklikepinupgirls, where others have shared their furry pin-ups.