What's the Difference Between CBD and Hemp Oil?
by Sam Boone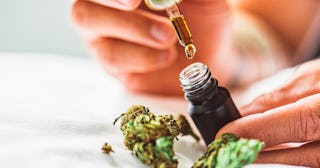 Rocky89/Getty Images
There are so many ways to unwind after a long day. A bath. A glass of wine. Yoga. Twenty rounds of Candy Crush Saga. Smoking weed. What about CBD? Or hemp oil? We hear so much about these products, but how do they fit into our world? Apart from coming from the same plant, the production process and recommended uses for CBD oil vs. hemp oil are very different. One is a big player in sustainable nutritional and industrial use, while the other is a leader in plant-based medicine.
So, what's the difference? And how could each benefit you? Let's explore what there is to know about CBD oil vs. hemp oil.
Both CBD Oil and Hemp Oil Come From Cannabis
To understand the similarities of CBD vs. hemp oil, we first need to understand the relevant terminology. Cannabis is anything related to the cannabis plant. Cannabinoids are naturally occurring chemicals found in cannabis. The cannabinoid THC (Tetrahydrocannabinol) is the active chemical in cannabis that makes you high. Like toking-in-the-college-dorm-room-watching-Dazed-and-Confused high. Hemp is a type of cannabis with less than 0.3 percent THC, while marijuana is a type of cannabis with more than 0.3 percent THC. Still with me? Excellent!
CBD (Cannabidiol) is the second most active cannabinoid in cannabis. It will not get you high like THC but does come with many health benefits. CBD can be derived from both hemp and marijuana plants. The former of which is federally legal in the U.S. as it contains a tiny amount of THC.
Hemp: Industrial and Nutritious
We use hemp to make a variety of products, including (but not limited to) rope, textiles, clothing, paper, and biofuel.
Hemp paper is even stronger than wood-based paper. Henry Ford created a plastic car in 1941 which ran on hemp and other plant-based fuels. Picture it: an entire wardrobe, house, and car made of hemp. That could be in our future. Experts project the global industrial hempire will grow 34 percent by 2025. And a big chunk of that industry is hemp seed oil.
Hemp seeds from the cannabis plant contain no cannabinoids like THC or CBD. Considered a "superfood," they are rich in protein, fiber, and healthy Omega-3 and Omega-6 fatty acids. The seeds contain all nine essential amino acids that humans need from food and can support building and repairing muscles. In other words, they will pump you up! Seeds can be eaten raw or liquified into beverages like hemp milk. Hemp oil comes from cold-pressing those cannabis seeds. Many people cook or bake with hemp oil. You can also find hemp oil in beauty products, shampoos, soaps, and body lotions. You can even use it as massage oil (ooh la la).
Can you use hemp oil for pain? Unfortunately, no. Does it help with anxiety? Not really. There are no scientifically proven medicinal benefits of hemp, but some still use it for holistic healing and topical use. When it comes to pain and anxiety relief, you're looking for CBD.
CBD: Medicinal Relief
According to a 2019 Gallup survey, one in seven Americans uses some form of CBD, mostly for medicinal reasons. CBD is extracted from cannabis flowers, leaves, and stalks, which contain a high concentration of cannabinoids (unlike cannabis seeds).
CBD oil comes in three forms:
Full-Spectrum: CBD oil can legally have up to 0.3 percent THC. Full-spectrum CBD oil has the most medicinal potency. Some prefer it because they want all of the cannabis plant's benefits and the cannabinoids working together.
Broad-Spectrum: CBD oil can be further processed to contain zero THC but keep everything else, including the cannabis flavor and aroma.
CBD-Isolate: A pure colorless, odorless, zero-THC version. Just CBD and none of the fixins.
CBD can be smoked, eaten, drank, or used as a rub or cream. Hemp seed oil, MCT oil, olive oil, avocado oil, and coconut oil are common carrier base oils for CBD tinctures.
Tons of clinical research around the world supports the use of CBD oil for pain and anxiety. Studies show it can reduce inflammation, lower anxiety, relieve symptoms of depression, reduce the occurrence of seizures, help with digestion, and treat symptoms of Parkinson's Disease, among other benefits. CBD doesn't make you feel high in the "munchies after midnight" sense, but some might describe the effects of feeling anxiety and depression symptoms lifted as "mind-altering."
You can even try CBD for dogs and cats. Owners will give their aging, injured, or anxious pet CBD treats or oil drops on their food. Separation anxiety. Joint pain. Scared of fireworks. Overgrooming. CBD can help all of these pet ailments.
It's important to use what makes the most sense for your body when choosing between CBD and hemp oil. CBD can treat psoriasis, acne, eczema, help fade scars, and minimize pain. Hemp seed oil is a little less effective because it comes from the cannabis Sativa seed, which doesn't have any CBD.
Tips for Buying CBD and Hemp Oil
Here are some pointers for purchasing CBD oil vs. hemp oil:
Amazon does not sell CBD oil, so get it directly from a credible supplier. Prohibited Amazon listings include:
Full-spectrum hemp oil
Rich hemp oil
Products that have been identified as containing CBD
Look for third-party lab testing. They provide unbiased information to the consumer. You can usually find a Certificate of Analysis (COA) on a CBD company's website.
Sometimes CBD-containing oils are labeled "hemp oil" to skirt regulations and be sold in a wider variety of outlets. If it has CBD, you will see "cannabinoids" on the ingredients list.
Nutritional properties for hemp seed oil are directly related to the manufacturing method and variety of hemp. Using a modern steel press helps hemp oil maintain its full nutritional value, flavor, and aroma. Aim to buy your hemp oil from a manufacturer who is open about their process and standards.
Drugs that should not be taken with CBD
A good rule of thumb is avoid mixing your medications. So, if you're using CBD oil avoid the following drugs:
Amiodarone (heart rhythm medication)
Warfarin (blood thinner)
Levothyroxine (thyroid medication)
Clobazam, lamotrigine, and valproate (seizure medication)
Steroids and corticosteroids
HMG CoA reductase inhibitors
Calcium channel blockers
Prokinetics
HIV antivirals
Beta-blockers
Stay away from drugs that cause sleepiness. Avoid opioids and benzodiazepines. (This includes Xanax or Ativan.) Antipsychotics are a definite no-no and keep away from antidepressants and even antihistamines. Alcohol may also amplify CBD effects and make you incredibly sleepy. Anti-epileptic drugs also do not mix well. You should stay away from CBD if you have health issues like:
Liver disease
Kidney disease
Epilepsy
Heart problems
A compromised immune system or taking medication that suppresses your immune system
Whether you enjoy cooking with hemp oil or relaxing with CBD, people who connect over cannabis are buds. To be blunt, it's a joint effort! Hemp, hemp, hooray! (We've got #dadjokes for days.)
How long does pure CBD oil stay in your system?
Depending on your body type, the amount of time CBD oil stays in your system can range from two to five days. However, for some users, it can last weeks.
How to Use CBD Oil for Erectile Dysfunction
Cannabidiols has been reported to enhance sexual experiences because it reduces anxiety and depression. So, it depends on the root cause of someone's erectile dysfunction. If their ED results from stress, CBD can help relax the body and with impotence. It also increases blood flow, which can help with arousal because it makes the skin more sensitive. So, feel free to use it during foreplay, for hand jobs, or as lube.
This article was originally published on