CDC May Soon Advise All Americans To Wear Masks In Public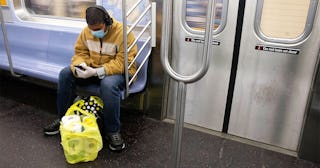 Barcroft Media/Getty
The question is, where will millions of people get masks?
After weeks of denying that healthy Americans need to wear masks in public, the CDC and the White House are reportedly revisiting that claim. The novel coronavirus and COVID-19, the deadly respiratory disease it causes, continue to spread, and projections show the U.S. could see hundreds of thousands of deaths during the current pandemic.
There's not any solid scientific evidence that wearing surgical or cloth masks is effective protection against the virus, and N95 masks, the type that do stop viruses, are already in extremely short supply around the world, including in hospitals, where they're needed most. But there is anecdotal evidence that shows lower death rates from the disease in Asian countries where more people typically cover their faces in public, like Singapore and Taiwan.
The problem is, if the CDC or White House make an official recommendation that Americans wear masks when they have to go into public spaces, where will we get them? Medical face coverings are desperately needed by healthcare workers, and if normal citizens make a run on them, it will cause even more shortages than the dangerous ones we're already facing.
A quick search of sites like Target, Walgreens, CVS, and Amazon showed that there are essentially no surgical masks in stock to purchase online and ship. A number of Etsy sellers are offering cloth ones, but again, those are supplies that are desperately needed by the doctors and nurses on the front lines of this disease, and if Americans start buying them en masse, we're only going to have bigger problems.
"You don't want to take masks away from the health care providers who are in a real and present danger of getting infected," Dr. Anthony Fauci, the director of the National Institute of Allergy and Infectious Diseases and the face of America's coronavirus response, told CNN earlier this week. However, "The idea of getting a much more broad community-wide use of masks outside of the health care setting is under very active discussion at the task force. The C.D.C. group is looking at that very carefully," he added.
No matter what the CDC ends up recommending on this subject, the best course of action is for Americans to continue isolating at home whenever possible and practicing social distancing when leaving the house for essential reasons. Stay at least 6 feet away from other people. Wash your hands regularly, particularly after touching surfaces in public. And if you have any symptoms of illness, do everything you can to stay isolated so you don't spread the disease.
Information about COVID-19 is rapidly changing, and Scary Mommy is committed to providing the most recent data in our coverage. With news being updated so frequently, some of the information in this story may have changed after publication. For this reason, we are encouraging readers to use online resources from local public health departments, the Centers for Disease Control, and the World Health Organization to remain as informed as possible.