CDC Director: Kids Should Get Vaccine Even If They've Had COVID-19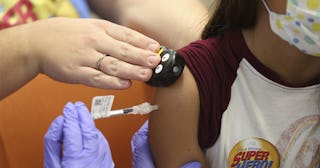 Paul Vernon/AP/Shutterstock
CDC director Dr. Rochelle Walensky confirmed that even if kids have antibodies from a prior COVID infection, they should "absolutely" get vaccinated
Now that parents around the country are (finally!) able to schedule vaccine appointments for kids ages 5 to 11, health officials are clearing up some potential misconceptions for those parents who aren't sure whether their kids need to be vaccinated against COVID-19.
After Dr. Rochelle P. Walensky, the director of Centers for Disease Control and Prevention (CDC), endorsed Pfizer's COVID-19 vaccine for use in children aged five and up, she confirmed that children in that age bracket who have antibodies from a prior COVID infection should still "absolutely" get vaccinated, since scientists and health experts still don't know how long natural immunity lasts or how strong it is among any members of the population — kids included.
Ahead of the green light given to kids aged 5-11, the agency published the results of a study of more than 7,000 patients hospitalized with a "COVID-like illness" (e.g., COVID-19 itself, respiratory failure, or pneumonia). The study reinforced that vaccination offers the best protection against serious illness from the virus, also finding that those who were unvaccinated and had a recent infection were five times more likely to contract COVID-19 again than those who had been fully vaccinated and did not have a prior infection.
"We absolutely recommend that children, even children who have had the disease before, get vaccinated," Walensky said Wednesday during a White House press briefing about COVID (roughly 21:00 into the briefing).
"About 10 percent of the people in the clinical trials for the kids had previous infection," she continued. "We have seen that it bolsters their protection and it is safe to do, so we absolutely recommend two doses of vaccines for these children. We do know that after nearly all infectious diseases you have some protection from getting that infection again — but we don't really know how long that lasts or how robust that is, so we absolutely recommend that children who have had the disease before get vaccinated."
At the start of the briefing, Walensky also assured parents that critical measures involving safety, efficacy, and proper dosing have been taken into account for the roughly 28 million children now eligible to receive the vaccine. "I want to speak directly to parents about this recommendation. We have followed the scientific process. We have done our due diligence. Please know we have thoroughly reviewed all of the available safety, immunogenicity [ability of the Pfizer vaccine to provoke the proper immune response], and efficacy data before recommending this vaccine for your child."
"The most common side effect was a sore arm," said Walensky, who noted the two million cases among American children, along with the far-reaching effects on kids' mental health as the pandemic nears its third calendar year. "The safety of our children is of utmost importance to me, and I believe these vaccines will help us to better protect our children from COVID-19."
She encourages parents with any questions or concerns to reach out to trusted doctors, nurses, and pharmacists, who can help provide reassurance and arm them with the knowledge they need.