The CDC's Official Holiday Guidelines Are Here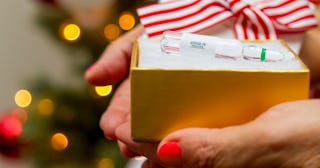 (ampueroleonardo via Getty Images)
The CDC just released their guidelines to keeping friends and family safe as travel ramps up for the holiday season
In a declaration that should surprise no one, the Centers for Disease Control stated that the best way to keep everyone in your life safe from COVID-19 throughout the holidays is by being fully vaccinated. The health organization released guidelines for Americans planning to travel for the winter holiday season, AKA the busiest travel season.
"Holiday traditions are important for families and children. There are several ways to enjoy holiday traditions and protect your health. Because many generations tend to gather to celebrate holidays, the best way to minimize COVID-19 risk and keep your family and friends safer is to get vaccinated if you're eligible," the CDC guidelines start.
The guidelines also urge everyone to wear a mask in public indoor settings, no matter your vaccination status. The organization also urges those who are not yet vaccinated to delay travel. For those unable to get the vaccination, the CDC suggests opting for less public transportation, getting a viral test 3-5 days before travel, and to get tested and quarantine for 10 days post-travels. Even if the test comes back negative, the CDC urges people to continue quarantine for the full 10 days to be extra cautious.
These guidelines remind those who are unvaccinated by choice that this is a decision that affects not just your health, but the health of those around you
People who are immunocompromised, have certain medical conditions, and young children are not eligible for the vaccine, which makes ensuring that eligible people are vaccinated all the more imperative. September, AKA the return of in-person learning in schools, marked the highest rate of COVID-19 infection among children. While the Biden Administration is hoping to have an approved vaccine for children 5-11 as soon as November, we shouldn't bank on this and assume holiday travel will return to "normal."
The guidelines also reiterate that outdoor meetings are much safer than indoor, unventilated gatherings. Many Americans live in regions with less-than-comfortable and chilly weather, so for those who cannot hang outside, being vaccinated is even more imperative.
As for other holidays around the corner — like Halloween — experts feel that gatherings and trick-or-treating is safe, as long as it is done outdoors
"This is a time that children love. It's a very important part of the year for children," Dr. Anthony Fauci said. He also noted that while outdoor events are definitely safer, anyone eligible should get vaccinated to "add an extra degree of protection to yourself and your children and your family and your community."
Once again: Get vaccinated. Wear masks in public indoor spaces no matter your vaccination status. Keep those around you safe and do your part to fight COVID-19 this holiday season.