CDC Releases New Guidelines On How To Safely Reopen Schools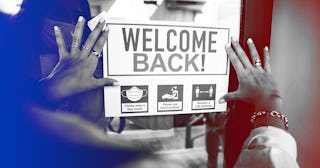 Scary Mommy and LeoPatrizi/Getty
CDC releases the most detailed school reopening guidelines yet
Since the start of the pandemic, reopening schools has been a high priority though it has been treated like a game of whack-a-mole, with a scattershot reopening strategy where schools are open or closed based on how private your school is or how republican your state governor is. Also, during the nearly year-long pandemic, the CDC hasn't really carved out clear or robust guidelines on how to open schools safely, but in a February 12, 2021 update, the CDC laid out detailed new plans to safely reopen schools if a district wants to do so.
After studying the spread of COVID-19 in schools that do follow strict safety measures, the CDC released the following document, stating that the following "five key mitigation strategies are essential to safe delivery of in-person instruction and help to mitigate COVID-19 transmission in schools."
Though these guidelines are suggestions and not requirements, the CDC lists those five mitigation strategies as: the universal and correct wearing of masks; physical distancing; washing hands; cleaning facilities and improving ventilation; and contact tracing, isolation and quarantine. The CDC says that schools should place the most emphasis on universal mask-wearing and physical distancing.
When it comes to masks, the CDC says "the most effective fabrics for cloth masks are tightly woven such as cotton and cotton blends, breathable, and in two or three fabric layers. Masks with exhalation valves or vents, those that use loosely woven fabrics, and ones that do not fit properly are not recommended." As for physical distancing, they echo the six feet rule we've all come to know and said that schools that cannot physically distance should do a hybrid model and staggered scheduling so that when kids are in school, they are able to be six feet from each other in the classroom. They also suggest installing physical barriers and guides such as sneeze guards and partitions.
The CDC guidelines also claim that if all their mitigation strategies are followed, elementary schools can operate in person safely at any level of community virus transmission, though middle schools and high schools across varying community transmission levels can only "safely" open if the schools follow all the mitigation strategies and conduct weekly coronavirus testing of students and staff members, something that is rarely done in many schools currently.
The most controversial guideline in the whole thing is that teacher vaccination, although important, doesn't need to be a prerequisite for reopening schools (something the CDC has been saying for a few weeks now), though CDC Director Dr. Rochelle Walensky tweeted that she "encourages states to prioritize teachers and other school staff to get vaccinated as soon as supply allows."
The document is intended to be read and interpreted by educators and school officials who can choose to implement or not implement these guidelines. The most newsworthy aspect of this whole thing is that it's the most robust, detailed, and even the strictest set of guidelines to date, compared with school reopening overviews released under the Trump administration, which many felt did not contain enough guidelines about how exactly to reopen safely. "I can assure you that this is free from political meddling," Walensky said in a news briefing on Friday (via CNN).
It's unclear if these guidelines are a little too late as many schools across the country have already reopened to varying degrees of success, using their own COVID-safety metrics, but The New York Times reports that the new guidelines were "greeted warmly by many coronavirus experts" and both national teachers unions "said they were pleased to see the C.D.C. release clear, detailed guidelines based on science." However, the American Federation of Teachers tells The Times that they wish there was more emphasis on the importance of in-school COVID-19 testing and the National Education Association said they wanted more guidelines pertaining to air quality in schools.
"I want to be clear, with this operational strategy, CDC is not mandating that schools reopen. These recommendations simply provide schools a long-needed roadmap for how to do so safely under different levels of disease in the community," Walensky added at the press briefing.
The mitigation strategies are clearly grounded in science, though Walensky stated at the press briefing that the "safest way to open schools" is to curb the spread of the virus in the community at large, which is a task that still seems to evade most of the United States.