CDC Finds Teachers May Play 'Substantial Role' In School COVID Spread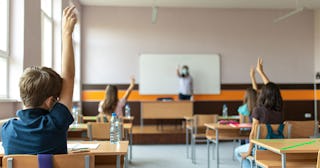 miljko/Getty
The study results highlight why teachers and school staff should be prioritized for vaccination
A new study from the Centers for Disease Control and Prevention (CDC) shows that teachers and school staff were the probable source of several school-related COVID-19 outbreaks, not students. The results of the study are particularly disparaging as the national push to fully re-open schools for in-person learning continues.
The results of the CDC study detail an investigation of COVID-19 spread in eight public elementary schools in a Georgia district earlier this winter, where there was high community spread. The study, published Monday, highlights the importance of maintaining mask and social distancing guidelines within schools, and the immense need to prioritize teachers and school staff for the vaccine.
"The two main reasons for the spread of Covid-19 in these schools were inadequate physical distancing and mask adherence," CDC Director Dr. Rochelle Walensky said, per CNN. "In the schools, physical distancing of at least 6 feet was not possible because of the high number of students in class, as well as because of classroom layouts."
The schools involved in the study were part of one public school distric tin Georgia's Cobb County during 24 in-person school days from Dec. 1, 2020-Jan. 22, 2021. Approximately 2,600 students (80% of the district's elementary school students) and 700 staff members all attended in-person during that time.
"Nine clusters of three or more epidemiologically linked COVID-19 cases were identified involving 13 educators and 32 students at six of the eight elementary schools," the study said. Two of the nine clusters of cases were determined to be "probable educator-to-educator transmission that was followed by educator-to-student transmission." This resulted in half the school's associated COVID cases — 15 out of 31 cases.
In addition to focusing on in-person schools within the county, the study also tested 69 household members of individuals who were diagnosed with school-associated COVID cases — 18 of them received a positive COVID test.
"All nine transmission clusters involved less than ideal physical distancing, and five involved inadequate mask use by students," the study said. "These findings suggest that educators can play an important role in in-school transmission and that in-school transmission can occur when physical distancing and mask compliance are not optimal."
Currently, the CDC has five key COVID-19 mitigation strategies: universal and correct wearing of masks, physical distancing, washing hands, cleaning facilities and improving ventilation, and contact tracing/isolation/quarantine.
Until teachers and school staff are fully vaccinated, it's clear from this study that schools need to strictly adhere to these risk mitigation efforts and guidelines.
"The findings also highlight the importance of scaling up vaccination efforts across the country, including the continued need to prioritize teachers and other school staff for vaccination as part of the frontline essential workers, consistent with the recommendation of the Advisory Committee on Immunization Practices," Walensky said.
In a statement to Newsweek, a CDC spokesperson said, "The study found that students sometimes wore masks incorrectly or did not wear them at all, despite a mask mandate and reportedly high compliance with the mask mandate."