CDC Urges Flu Shots As Hospitals Are Overwhelmed By Pandemic
by Madison Vanderberg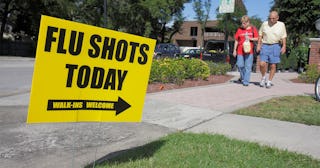 Jeffrey Greenberg/Universal Images Group/Getty
Flu shots are more important this season than ever before
Last year's flu season was virtually non-existent mostly due to lockdowns and the fact that lots of people were constantly wearing masks. However, now that most people have returned to "normal life" — despite the fact that we are still in a pandemic — the CDC is worrying about the upcoming flu season. Now, a bad flu season coupled with already overwhelmed hospitals filled with COVID-19 patients has the CDC urging everyone to get their flu shot ASAP.
Schools are open again, other respiratory infections, like RSV, are back, and people have weakened immune systems because they didn't get sick last year — and yet, not enough people are emphatically signing up for a flu shot this season.
Despite the strain on hospitals and worries about a flu season surge, the National Foundation for Infectious Diseases (NFID) released a study on October 7, 2021, stating that 44 percent of U.S. adults are unsure or do not plan to get a flu shot. The survey also found that nearly 23 percent of people who are at higher risk for flu-related complications said they were not planning to get vaccinated this season. As usual, this country faces a nearly constant uphill battle against vaccine hesitancy.
"While we do not know what flu activity will be like this fall — I urge everyone age 6 months and older to get vaccinated. If you are unsure about getting a flu vaccine, please take the time to get the information you need to make the right choice for your health and to get vaccinated. The COVID-19 pandemic is not over, and the risk of both flu and COVID-19 circulating could put additional strain on hospitals and frontline healthcare professionals," said Centers for Disease Control and Prevention (CDC) Director Dr. Rochelle P. Walensky at a news conference today. "Getting vaccinated against flu is the best way that everyone can protect themselves and their loved ones against flu and help reduce additional demands on our healthcare system."
The flu shot prevents or reduces the duration and severity of the flu.
For the people who claim that they've gotten a flu shot in the past but still got "got sick," the NFID Medical Director William Schaffner, MD explains that "even in cases when flu vaccination does not completely prevent infection, it can reduce the duration and severity of illness and can help prevent serious complications, including hospitalization and death."
Everyone should get their flu shot, but the NFID says the following groups are most at risk for complications related to the flu. Those groups include pregnant women, children under 5 years of age, adults age 65 and older, and those with certain chronic medical conditions, including diabetes, lung disease, and heart disease.
Also, in case you're due for a COVID-19 booster or want to get your first ever COVID-19 vaccine, you can absolutely get a flu shot and the COVID-19 vaccine at the same time. The CDC updated its vaccine recommendations to state that it's totally safe to do both at the same time.
The CDC recommends an annual flu vaccine for everyone 6 months and older and would prefer that everyone be vaccinated by the end of October to fully protect oneself from the virus. What are you waiting for? Get your shot!