Taylor Swift And Ariana Grande Are Helping Fans Financially During Coronavirus Crisis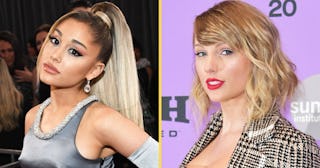 Kevin Mazur/Neilson Barnard/Getty Image
Celebrities take a hands-on approach to coronavirus aid, donating directly to fans in need
If you need a little faith in humanity restored today, look no further than the generous stars who have taken it upon themselves to help their struggling fans. Although the federal government has approved a stimulus package that will include checks relief checks, the reality is that people who've lost jobs or income or are struggling with health issues can't afford to wait. So, in the meantime, celebrities like Taylor Swift are stepping up.
Last week, posts began popping up from emotional "Swifties" who'd received an unexpected surprise — the singer had sent $3,000 directly to a bunch of fans after they'd shared their concerns over not being able to make ends meet.
Some of the recipients even shared snapshots of their deposits on social media, with one writing, "I made a post on Tumblr about how I was scared I wouldn't be able to stay living in NYC because of what corona has done to the music industry. @taylorswift13 literally single-handedly saved my ability to stay here. I cannot even believe my eyes right now."
Speaking of eyes, ours are sweatin' right now. (Yes, sweating — we're not crying; you are.) In case you haven't yet had your heartstrings tugged hard enough to make your eyeballs sweat too, we'd like to share with you what we know about Ariana Grande's goodwill. The "Thank u next" singer has reportedly Venmo'ed more than 20 fans money ranging in amounts from $500 to $1,000 to help ease any coronavirus-related financial burdens they may be facing. Page Six even reported that she paid one fans' entire salary for a month.
Grace & Frankie star Brooklyn Decker found a way to support both her neighbors and businesses local to her. On Monday, she took to Instagram to share her plan. "Do you need a meal and live in Austin? Do you have a friend or family member who got laid off and needs a meal? I have 20 gift cards worth $100 each to @mmhaustin, my fav restaurant group in Austin," she wrote. After the initial 20 cards were claimed, she revealed she would be giving away more in the near future.
Also pitching in to help fans out? Sisters Britney and Jamie Lynn Spears, who are encouraging fans to reach out to them on social media if they need extra money during this crisis. They're participating in the #DoYourPartChallenge, and encouraging other celebrities to do the same.
https://www.instagram.com/p/B9-VuoaAXU7/
So, there you have it. There are surely countless stories of celebrity kindness like this that have yet to surface as well, so let that bring your heart a bit of comfort. And, hey, if you have dire financial needs and a celebrity is offering to help, shoot your shot in their comment feed. We're all going to have to do our fair share of both giving and receiving to get through this.