Here Are All The Best Celebrity Instagrams From The Holiday Weekend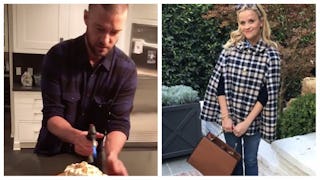 Image via Instagram/Jessic Biel/Reese Witherspoon
Because who doesn't love creeping on our favorite celebrity families?
As the holiday weekend comes to a close, there is much to be thankful for: relatives who have gone home, dishes that are done and put away, and elastic-waist pants. There's one more thing, though, we can all take joy in before it's back to work and our weekly grind: creeping on celebrity Instagram accounts to see who did what and where.
If you don't like ogling how the other half lives from time to time, you either have a lot of social media self-control or you're a dirty rotten liar. Especially because seeing how celebrities celebrate the holidays is prime entertainment. Some of our favorite celebrity moms shared adorable family photos and videos, for instance.
Kelly Clarkson's little girl is just too damn cute:
TBH, Reese Witherspoon's entire lifestyle brand is even sweeter than that pie she threw down.
We love pretty much anything JLD does, and it's heartwarming to see her share her happiness in the face of fighting breast cancer.
Gwen Stefani celebrated down south with Blake Shelton's family and OMG, those sweaters.
Of course, the Timberlake-Biels showed their Thanksgiving was "lit."
And Justin Timberlake even followed up with how he likes to detox post-Thanksgiving.
OK, this might be the best and most joyful Thanksgiving Insta ever. Viola Davis rules.
We can't possibly forget our Lord and Savior, Beyonce, looking amazing as always.
And while she may not be a mom, Tracee Ellis Ross might just win All The Celebrity Holiday Instagram accolades with this hilarity:
PERFECTION. The end.