Here Are All The Best Celebrity Instagrams On Mother's Day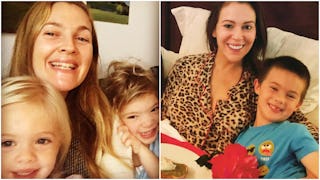 Image via Drew Barrymore/Instagram/Alyssa Milano/Instagram
Celebrities are posting sweet Mother's Day pics and they may make you feel a little gushy
Stalking celebrities on Instagram is a win/lose situation. Win, because you get to look at beautiful, shiny people living their best lives. Lose, because you're immediately hit with a wave of depression and feel the need to get a facial so that your skin looks more glowy. But today is different. Today, celebrities are posting Mother's Day shots on Instagram, and they're all very sweet and adorable and you'll probably want to hug the nearest pillow.
First up, we have Drew Barrymore who is forever everyone's favorite Flower Child. She posted a snap of her two children, Olive and Frankie, and said she "carries the picture in [her] heart." I told you things were about to get very, very adorable.
https://www.instagram.com/p/BiuI_9pgR6X/?taken-by=drewbarrymore
Busy Philipps sent love to everyone today – from those who have wonderful relationships with their moms to those who are still struggling.
Hoda Kotb got up nice and early to snap this picture with her daughter Haley Joy. All the applause for looking this cute and cheerful before dawn.
Can we talk about the fact that Michelle Obama and her mom are actually IDENTICAL?!
Speaking of identical, Ava Phillippe and Reese Witherspoon continue to be twins.
Ughhhh, breakfast in bed FTW.
Always, ALWAYS here for the Bacon/Sedgwick fam.
Thanks Viola Davis. Your caption makes me want to sob.
Ditto to Jennifer Lopez. Also, this is further proof that the Lopez clan never ages.
Cute pic. But also, where are the pancakes??!
Rihanna winning it all with these earnest, honest words: "God bless you not just today, but everyday for the thankless and selfless jobs that you do!" Yup. Amen to that.
Well…are you sufficiently verklempt? Happy Mother's Day to all.