Celebs Share Awkward Childhood Photos To Raise Money For Puerto Rico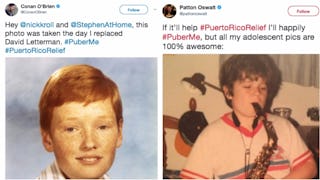 Image via Twitter/Conan O'Brien/Patton Oswalt
Celebs use hashtag #PuberMe to raise funds
The crisis in Puerto Rico has reached epic proportions. American citizens are without electricity or access to water. Many are trying to mobilize to help. On Wednesday, The Late Show host Stephen Colbert and comedian Nick Kroll started a movement of teenage awkwardness to raise money for the devastated island.
On the Wednesday night episode of The Late Show, Kroll (who was a guest) dared Colbert to share an embarrassing picture from his pre-teen years on Twitter along with the hashtags #PuberMe and #PuertoRicoRelief.
Colbert responded magnificently:
Kroll answered with a super cool shot of his own:
For each celebrity who posted their own mortifying photo, Colbert vowed to donate $1,000 to the Puerto Rico relief and Kroll promised to match it. Well, celebrities have come through big-time.
Here's Andy Richter, who said he had a hard time finding a picture that was awful enough to qualify. He succeeded:
Sarah Silverman, Jimmy Fallon, James Corden, Kevin Smith, Lena Dunham, Patton Oswalt, and Samantha Bee are among the many who followed suit:
But our favorite has to be Conan O' Brien's:
Colbert retweeted the pic of the dreamy-eyed ginger, writing: "This lil' guy can teach you how to make a whistle out of a blade of grass!"
Running a close second to O'Brien is a young Weird Al Yankovic drinking out of a coconut with a twisty straw:
Colbert and Kroll have done a phenomenal job of making us laugh while bringing attention to an island that desperately needs its country's help.
Puerto Rico, which is home to over 3 million people, was hit by Hurricane Maria on September 20th. Wind speeds during the storm reached 155 miles an hour. The island has been destroyed — most are without power, and food and water are becoming more and more scarce. Officials say it could be months before the island has electricity again. People are suffering, people are dying, and they need us.
PBS has a great list of ways you can help Puerto Rico.