This Hilarious Celeb Mash-Up Is All Of Us Trying To Sing 'Since U Been Gone'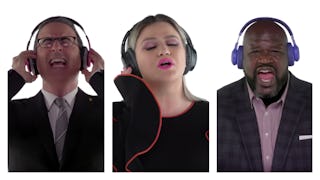 Image via YouTube
A bunch of celebrities sang "Since U Been Gone" and it was beyond delightful
Are you ready for the ultimate mid week pick-me-up? Kelly Clarkson and a bunch of other celebrities came on The Tonight Show and sang "Since U Been Gone," which is the early 2000's breakup anthem that we all know and love. Just like us, these famous folks struggled hard to hit those high notes, and it's pure hilarity.
Prepare to feel immense amounts of joy.
Did everyone who participated successfully hit their high notes? No. Can anyone sing this song to Clarkson levels of amazing? Also no. But were all the celebs having a great time? Yup. Will your life get a little bit brighter after you see Shaq sing a Kelly Clarkson song? 100 percent.
Here it is in all its glory. Warning: do not watch this someplace where you don't have the full ability to sing your weary heart out.
Let's break down the cameos – starting with the basketball legend himself. And, damnit, he gave it all he's got.
John Oliver isn't just the king of late night political commentary. He can also rock out to pop songs better than the rest of us.
Rachel Brosnahan, aka Mrs. Maisel herself, got down admirably as well.
Meghan Trainor sang like a damn dream and wore a really sparkly sequined jacket to boot. To be fair, she does come very close to the original's greatness as far as vocal ability.
Most importantly, Kelly Clarkson helped them all through it and brought some much-needed joy into all of our lives.
Unlike choppy highlights, halter tops, and super low cut jeans (NOT OKAY EVER), "Since U Been Gone" has managed to live on as an early 2000's staple that still feels current today. In 2017, Clarkson appeared on The Tonight Show and sang the timeless classic backwards.
Pitch Perfect offered the ultimate tribute.
And – my personal favorite – a mom recently belted out the song while she was on the fan cam at a basketball game. Her son was not feeling it.
Kelly Clarkson, however, sent all of her kudos. "That's my kind of mama," she wrote on Twitter.
Basically, the moral of this story is long live Kelly Clarkson and her break-up anthem that made us all feel a little bit better after someone aggressively stomped on our hearts.