Our Fave Celebs Are Already Nailing This Year's Halloween Costume Game
by Christina Marfice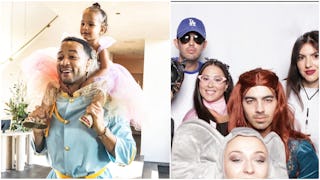 Images via Instagram
Thanks to a bunch of parties over the weekend, we've already seen a ton of amazing celeb Halloween costumes
If you've waited until the last possible minute to put together your Halloween costume, you might be seeking a little inspiration. There are so many possibilities, it can be super hard to choose. We get it.
Sure, you could head on down to Spirit or Party City and get one of those pre-made costumes in a bag. But everyone knows costumes are better when they're original and homemade. If you're looking for inspiration, look no further than some of your favorite celebrities, because they're already slaying Halloween this year.
There's apparently a huge trend this year of celebrities dressing as other celebrities, with some truly hilarious results. Throw in a creative "couples" costume and some father-daughter costume cuteness, and you have all the makings of a Halloween for the ages.
Here are some of the celeb costumes we're loving so far.
Rita Ora as Post Malone
https://www.instagram.com/p/BpaZ130Hvn5/?utm_source=ig_embed
Huge props to British singer Rita Ora for even coming up with the idea of dressing like rapper Post Malone — that's one creative costume. Also, she absolutely nailed it, right down to fake versions of Post's iconic tattoos.
Harry Styles as Elton John
Harry Styles' look was so spot-on that Sir Elton John himself Instagrammed a photo of it. If that happened to us, we would die.
Halsey as Poison Ivy
https://www.instagram.com/p/BpbNW74huI-/?utm_source=ig_embed
Superheroes are big right now (and, honestly, every Halloween, because they make such great costumes). With a full-body paint job, Halsey went above and beyond with her Poison Ivy look.
John Legend and Luna as a princess and Prince Charming
John Legend and Chrissy Teigen's two-year-old daughter, Luna, looks stoked to be a beautiful princess for Halloween. Her dad completes the look by being her Prince Charming. It's honestly too cute.
Joe Jonas as Sansa Stark
https://www.instagram.com/p/BpeJi4DhaQO/?taken-by=joejonas
In a twist on the classic couple's costume, Joe Jonas showed his support for his fiancée, Sophie Turner, in the most hilarious way: by dressing up as her Game of Thrones character, Sansa.
Nicky Hilton as… Paris Hilton
https://www.instagram.com/p/BpbDCwFBmEb/?utm_source=ig_embed
In what may be one of the best sibling trolls we've ever seen, Nicky Hilton went as a younger version of her heiress little sis, Paris. BRB, throwing together a costume of my younger brother, during his emo phase, of course.
Gabrielle Union as Gwen Stefani
Gwen Stefani is one of the most badass ladies we know of, so of course she makes a great costume. Gabrielle Union pulled this one off flawlessly.
Olivia Munn as Peik Lin
https://www.instagram.com/p/BpbBCeUAwQA/?utm_source=ig_embed
Want a Halloween costume from the hottest flick of the summer? Olivia Munn is here with the perfect Peik Lin from Crazy Rich Asians.
Jessica Alba and Kelly Sawyer as Flintstones
The Flintstones are a cartoon family that will never go out of style, as evidenced by Jessica Alba and Kelly Sawyer's joint Halloween costume.
If all of these spooky/adorable/inventive/hilarious costumes haven't inspired you, we're not sure what will. Good luck and Happy Halloween.