All The Celebrity Moms Who Kicked Ass In 2018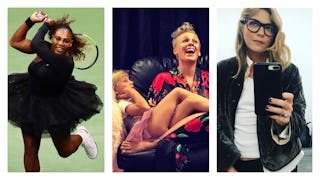 Image via Serena Williams/Instagram/Pink/Instagram/Selma Blair/Instagram
Let's hear it for all the bravest, boldest, funniest celeb moms in 2018
2018 is finally coming to a close, 2019 is just around the corner, and it's time we reflect on all the celebrity moms who made us smile, laugh and WOOHOO with all their kickass moments this year.
Let's be honest, life is always a little bit brighter when it involves Serena Williams wearing a tutu while playing tennis.
Let's start with Pink, because everything should always start with Pink. She went on an epic world tour and took her kids along with her for the ride. That meant we were all treated to completely delightful videos of the whole fam being glittery and cute and having lots of backstage adventures.
We all applauded Selma Blair when she opened up about being diagnosed with multiple sclerosis in a powerful, honest Instagram post.
"I have MS and I am ok," Blair wrote. "But if you see me, dropping crap all over the street, feel free to help me pick it up. It takes a whole day for me alone. Thank you and may we all know good days amongst the challenges."
When Serena Williams was banned from wearing a catsuit to the French Open games (she had originally rocked one because it helped with blood clotting…and looked fierce as hell), the tennis player responded by wearing a jet black tutu to her next game. And damnit did me and the rest of the people in the peanut gallery enjoy that so, so much.
Kristen Bell got very candid about the fact that her kids gave her anal worms and made us all feel so much less alone in this world.
Anne Hathaway hit back at internet trolls before they had a chance to strike. She took to Instagram to say that she's gaining weight for an upcoming role, she knows that body shamers have their own self-image issues, and she wished that she could post the song "Fat Bottomed Girls" but wasn't allowed to for copyright reasons.
Hillary Duff opened up about the importance of parents taking some time for themselves.
https://www.instagram.com/hilaryduff/?utm_source=ig_embed
"Sometimes my 'me time' is sitting on the couch and watching a show after I put Luca to bed," she told Parents. "Or it might be telling him, 'Hey, I've been running around with you all day—I need to decompress and get off my feet…It took until this year not to feel guilty about doing it."
And Jenna Dewan had some extremely inspiring words about her priorities after her split with Channing Tatum.
"'Who are you? What do you want to give to the world? What excites you?'… I really wanted to expand my life, and myself. And that was my journey, no one else's," she told Harper's Bazaar.
Yahhhhhs yahsssss.
Also, Chrissy Teigen shared a photo of herself wearing her hospital mesh panties after giving birth. 1,000 points for relatable content. Another 100 points for little Luna and her harp in the background of the picture.
So many kudos to Cardi B, who candidly opened up on Instagram about her decision not to go on tour with Bruno Mars during the fall.
"I thought that after giving birth to my daughter that 6 weeks would be enough time for me to recover mentally and physically." she wrote. "I also thought that I'd be able to bring her with me on tour, but I think I underestimated this whole mommy thing. Not only am I not ready physically, I'm not ready to leave my baby behind since the doctors explained it's not healthy for her to be on the road."
Here's to another year of celeb moms doing amazing things. We'll be on the sidelines, eating all the popcorn and cheering them on.