Celine Dion Used The Movie 'Up' To Explain Her Husband's Death To Their Kids
by Ashley Austrew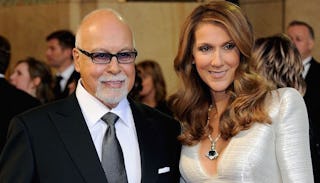 Image via Ethan Miller/Getty
It's been four months since Celine Dion lost her husband, René Angélil, to cancer, and now the notoriously private star has revealed not only the details of her final moments with the love of her life, but also the touching way she explained the loss to their kids. You're going to want a few tissues on hand before you read the beautiful things she had to say.
In an interview with ABC News' Deborah Roberts, the Canadian singer says in her final moments with her husband, she told him simply not to worry anymore. "You were worrying for my career. You were worrying for the children. You were worrying for everything," she recalled telling her husband. "It's enough… Trust me. The kids are fine. I'm fine. I promise you, we're gonna be okay."
Angélil was first diagnosed with throat cancer in 1999, but made a full recovery after treatment. In 2013, the cancer returned and he stepped down as his wife's manager. In 2015, Dion told Good Morning America her husband's cancer had left him unable to speak or swallow and that he only had "months to live." He passed away in their home on January 14, 2016, at the age of 73.
Dion and Angélil have three children together — 15-year-old René-Charles and five-year-old twins, Eddy and Nelson. In trying to explain their father's passing, Dion says she turned to their favorite movie, Up. "Before I told them that their dad was not there, I talked about when we, everybody, gets sick. Then I said, 'Do you remember the movie Up?'" she recalled. "It's one of our favorite. 'Oh,' they said. 'Yes, Ellie went up. You know, she, with the balloons.' And I said, 'Well, yeah … You know, today Papa went up.'"
[shareable_quote]"The only thing I wanted is for them to say 'up.' Up is a good thing. Up is uplifting."[/shareable_quote]
Dion also says she took her boys outside to release balloons and "pixie dust" into the sky. She told her sons, "We're gonna say, 'Papa, we love you. Have a good up.' And we're gonna spread this, and it's gonna go to him.'" Adds Dion, "The only thing I wanted is for them to say 'up.' Up is a good thing. Up is uplifting."
Explaining loss to kids is so, so difficult, but it sounds like Dion did an absolutely phenomenal job. She somehow took this tragic, painful thing her family endured and turned it into a moment that was beautiful and hopeful — at least as much as a tough moment like that can be.
When someone important passes away, you just want to be able to help kids understand and cope with their grief. You don't want them to be afraid, either for themselves or the person who's now gone from their lives. Dion explained loss in terms her children could understand, and gave them a way to feel totally reassured that their dad is okay.
Even in the midst of her personal grief, Dion managed to be strong for her children. The mom has been through so much and shared such a vulnerable piece of herself with the public. We wish her and her family the best as they continue to heal.
This article was originally published on