NYC's Big 'Reopening': Free Central Park Mega-Concert In August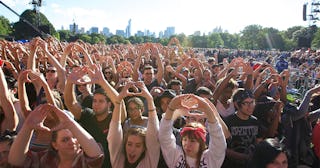 Michael Hurcomb/Getty
New York City Mayor Bill de Blasio is ushering in the return of the Big Apple after COVID-19 with a Central Park mega-concert
As one of the first global epicenters of the COVID-19 pandemic last year, New York City residents experienced some of the earliest and most serious impacts and hardships caused by the spread of the virus, with NYC reporting more than 950,000 cases and more than 33,000 deaths since COVID-19 was declared a pandemic last March.
Thankfully, though, vaccination levels continue to rise in the city — so much so that positive cases are hitting record lows, and it seems Mayor Bill de Blasio has big plans for Summer 2021. Along with a planned 100% reopening by July 1 and city schools fully in-person for the fall, de Blasio hopes to bring tourism back to the Big Apple, announcing plans for a mega-concert on the Great Lawn of Central Park to celebrate the city's reopening, as reported by the New York Times today.
The mayor's office is working with music producer Clive Davis (whose clientele list has included Janis Joplin, Bruce Springsteen, Aretha Franklin, Alicia Keys, and Whitney Houston, among others) on "The Official NYC Homecoming Concert in Central Park," tentatively scheduled for August 21. So far, no artists have been confirmed, but Davis said he's aiming for a lineup of eight "iconic" music acts for the three-hour show, which will include free tickets for most of the 60,000 attendees (and some VIP tickets for sale), along with a worldwide audience via TV and streaming. There will be designated vaccinated and un-vaccinated sections for concertgoers, with 70 percent of attendees to be fully vaccinated, per the mayor's office.
Summer concerts in Central Park are a long and storied part of NYC's history, and they were, of course, shuttered last year due to the pandemic. Mayor de Blasio confirmed not only plans for the "mega-concert," but also a week-long "Homecoming Week" celebration to help bring back tourism to the city, which has been financially impacted by COVID-19.
"This concert is going to be a once in a lifetime opportunity," said Mayor de Blasio. "It's going to be an amazing lineup. The whole week is going to be like nothing you've ever seen before in New York City."
Davis, a Brooklyn native, told the NYT he was "greatly honored" to get a call from Mayor de Blasio three weeks ago, adding, "I can't think of a better place than the Great Lawn of Central Park to be the place where you say that New York is reopening. There's a mental attitude that I think we are all looking forward to. That the future is bright and healthy for this country, for the world and for New York City."
So far, it seems the idea is receiving mixed reviews on social media, where Mayor de Blasio and his policies are frequently met with criticism from residents.
Still, it's a glimmer of hope for brighter days ahead both in New York City and elsewhere in the U.S., as we look forward to a post-COVID return to normalcy. Here's hoping the events planned are, in fact, safe for all who choose to attend.