The Golden Globes' Chadwick Boseman Tributes Were Amazing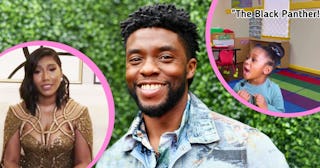 NBC and Emma McIntyre/Getty
Taylor Simone Ledward emotionally honored Chadwick Boseman as she accepted his posthumous Golden Globe award on his behalf
Anyone who watched last night's Golden Globes knows that the one-of-a-kind, remote ceremony was filled with unforgettable moments — sweet ones, awkward ones, and the ones that everyone will undoubtedly be talking about today. The thing we can't stop thinking about? When Chadwick Boseman won a posthumous award, and his wife, Taylor Simone Ledward, brought every viewer to tears when she gave an emotional speech to accept it on his behalf.
Boseman won the award for Best Actor in a Leading Role in a Drama Motion Picture for his role in Ma Rainey's Black Bottom. Ledward spent most of her speech talking about what her late husband would have said, had he been there to accept the award himself.
"He would thank God," she said. "He would thank his parents. He would thank his ancestors for their guidance and their sacrifices. He would thank his incredible team."
Ledward continued, "He would say something beautiful, something inspiring, something that would amplify that little voice inside of all of us that tells you, 'You can,' that tells you to keep going, that calls you back to what you are meant to be doing at this moment in history."
Throughout the speech, Ledward spoke through her own tears, even as she was causing the audience some of their own.
"And I don't have his words. But we have to take all the moments to celebrate those we love. So thank you, HFPA, for this opportunity to do exactly that. And hun, you keep 'em coming," she concluded.
Boseman died unexpectedly in August after a secret battle with colon cancer. He was just 43, and the world immediately knew that it had lost a true great, far, far too soon. Since his death, Boseman has been honored by his colleagues and fans. Emotional tributes have been given at just about every award show since he passed away. The loss has been particularly hard on kids, for whom Boseman was a true superhero come to life. In another emotional Golden Globes segment, kids were asked about him, and celebrated him as the Black Panther and "the good guy." If this doesn't turn you into a puddle of tears, nothing will.
If there's anything we learned last night, it's that Boseman's legacy lives on, especially through the people (and the kids!) he inspired in his work and how he lived his life. His legacy will continue to live on, and we'll continue to remember the incredible life he lived.
This article was originally published on