These Stores Are Putting Employees First By Staying Closed On Thanksgiving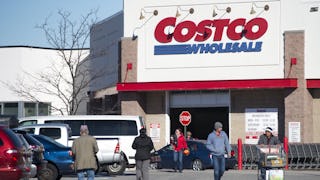 SAUL LOEB/AFP/Getty Images
Retail workers should get to celebrate Thanksgiving at home, and these big box stores agree
Black Friday is the biggest shopping day of the year, and both retailers and consumers often want to expand its reaches by starting enticing sales on Thanksgiving Day. Luckily, there's been pushback in recent years, both from people who think that Thanksgiving shouldn't be a day focused on material goods, and from businesses and brands who want their employees to be able to enjoy a holiday that's meant to be about being home, gratitude, and being with family and friends.
The list of big box stores that are closed on Thanksgiving seems to be growing — and we're totally into that. Not only does it encourage shoppers to stay home and relax, more importantly, it also allows retail workers to get a day off to rest and recharge before the most challenging shopping season descends upon them.
Leading the pack is outdoor store REI, which has made headlines in past years by not only closing on Thanksgiving, but also closing on Black Friday. They instead encourage that families "opt outside" during the holiday — a campaign that has brought the brand and their bottom line success. The other big outdoor giant, Patagonia, will also be closed on Thanksgiving.
While most chain grocery stores have at least limited hours on Thanksgiving — a holiday that's filled with food-related needs — a few big names are bowing out this year, even though they might lose profits, including Trader Joe's, Publix, Costco, Sam's Club, and BJs.
All three of the big box hardware stores, Ace Hardware, Lowe's and Home Depot, are closed on Thanksgiving, so get your supplies for home projects and holiday light hanging before Thursday.
Both of the big pet stores, Petco and Pet Smart are closing their doors on Thanksgiving, so make sure to get all of your animal-related turkey day treats early.
As far as office supply and organization stores go, Office Depot, Staples, The Container Store, and The Paper Store are shuttered for turkey day.
As for craft supplies, Hobby Lobby, Craft Warehouse, and JOANN are all closed.
And book stores Barnes & Nobles and Half Price Books are not open.
As for department stores and clothing stores, don't try to go to Dillard's, Burlington, Marshall's, H&M, Nordstrom, or TJ Maxx, and instead take another sip from the gravy boat.
When it comes to home goods, wait until Friday for Pier 1, World Market, West Elm, IKEA, Crate & Barrel, and HomeGoods.
And Apple is closed, too, so your huge holiday purchases of phones, iPads, and computers will have to wait another 24 hours.
Again, we think it's great that these stores are opting to close their doors on Thanksgiving, to keep both their employees and their shoppers home on an important holiday. This is a great list to keep in mind when you are shopping later this holiday season — because it's ultimately a list of places that cares about people above profits. And if you absolutely want to shop there? Try the online option, from your couch, with a full belly.