Chance The Rapper Donates $1 Million To Chicago Public Schools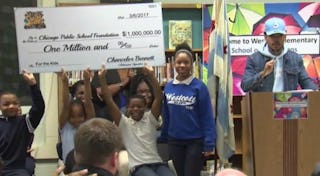 Image via ABC7/Facebook
The 23-year-old rapper and Chicago native is giving back to his community in big ways and calling on others to do the same
Chance the Rapper might be fresh off his three-time Grammy win for Best New Artist, Best Rap Performance, and Best Rap Album, but the rapper is gaining attention these days for donating $1 million to cash-strapped Chicago Public Schools (CPS), which is the victim of political posturing and government inaction.
Last Friday, Chance met with Illinois Governor Bruce Rauner to discuss the CPS funding crisis during which the governor have him a lot of "vague answers." During the meetings, the 23-year-old rapper – whose given name is Chancellor Bennett — urged Governor Rauner to give $215 million in state funds to CPS so the cash-strapped schools can function without any additional cuts. According to Chance, the two communicated more over the weekend, but their "talks were unsuccessful."
Just hours after Governor Rauner offered two problematic options to provide the necessary funds (which were rejected by the school district), Chance held a press conference at Westcott Elementary School – just blocks from where he grew up in the West Chatham neighborhood – and announced that he was giving $1 million to CPS to support arts and enrichment programming. The money will come from ticket sales from his upcoming tour.
During the press conference, Chance also criticized the governor for failing to "give Chicago's children the resources they need to fulfill their God-given right to learn."
Illinois' budget has been a mess for years, and CPS has been the unfortunate victim of all this political posturing. Even though funding for teachers and districts in the rest of the state increased, funding for CPS's pension fund decreased, thereby further widening the disparity between rural/suburban and urban public schools. In December, Illinois Governor Bruce Rauner reneged on a previous promise to give CPS the $215 million he had pledged. If the governor doesn't act, CPS will be forced to close school 13 days early this year, which will impact over 380,000 kids.
"Our kids should not be held hostage by political positioning," Chance said in a press conference. He said that his frustration and disappointment would not keep him from doing everything he can to "support Chicago's most valuable resource – its children."
Chance also called on the public – including businesses and others in the community – to donate to CPS through his non-profit, Social Works, Inc. via its website SocialWorksChi.org. The organization will also donate $10,000 to specific CPS schools for every $100,000 raised.
Challenge accepted. Donation made.
My kids are fortunate to go to a fabulous public school in the Chicago suburbs, which means that, in a roundabout way, they benefit from Illinois' messed up funding system. They won't be hurt by CPS's struggles and chances are your children probably won't be either. But that doesn't mean we can't do something to help.
The bottom line is this: these are children we're talking about. They should not be pawns in a messed up political fight. Public education is not a political issue; it's a moral issue. We all want the best educational opportunities for our children, but that shouldn't come at the expense of other children's right to the same. These are innocent children. They are quite literally our future. And every child – every child — has a right to quality education. Period.
Standing ovation for Chance the Rapper — Grammy winner, activist, philanthropist, and all around classy dude. When taking questions from the media, he even reminded them to be respectful and wait their turn. "We're doing the raise your hand thing," he said.
"I thank every person in Chicago for building me into the person I am," he said. "Everyone has a voice and a hand in this… I thank you for raising me up, and I'm gonna need a little bit more help to get this done."
This article was originally published on