Channing Tatum Dancing Is Exactly The Vibe We Need Right Now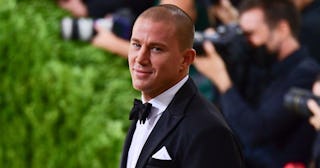 James Devaney/Getty
Channing Tatum has gifted us some dancing footage we had no idea how badly we needed
It's been a tough few days. Well, weeks. Ok, the last year has been like a real-life Squid Game, but instead of playing vying for cash prizes, we've been fighting amongst ourselves over wearing masks and getting vaccinated. Big fun.
But our friend Channing Tatum has decided to give us the break we all need. Yes, Zoe Kravitz's maybe-boyfriend took to Instagram to post a chill-vibe video of him dancing, Magic Mike-style.
The actor-dancer-author posted a series of dance videos to his Instagram stories. Tatum says that he's getting back to dancing, writing, "Kids hear and feel the music so well today. I've been working at different things lately. So, let's go, session one."
Recently, Channing has been seen around New York, with the actor posting snaps of himself and his new bike on his Insta.
In September, Tatum posted a series of photos that had him reflecting on his early career.
"So 20 years ago (holy fuk) i was a kid stand in a room of what would be probably thousands of guys trying to get picked for the shows in Milan. God knows how many they actually saw. Hoping to get picked to walk in the spring show. I never got to walk for Versace in the maybe 6 or 7 seasons in went to the shows," Tatum captioned the picture of him wearing Verace, head to toe.
"But last night to get to wear this……. other worldly robe…….. and to wear the most classic Versace tux. Cut boxy like Gianni wore in the 90's was beyond my wildest dreams," he contined. "Donatella thank you so much for having and inviting and letting me wear such elegant and magical clothes. it was dream like. You are a legend!and a myth."
The 21 Jump Street star's social game is strong, with the actor posting a picture in August that had everyone guessing.
"Bored on set. And found this pic," Tatum captioned the photo of him riding a bull. "Third most scared I've ever been. Maybe forth."
As Tatum wrapped up his dance sessions, he seemed hard…on himself. "Sloppy floor work but was tired, ahah. I'll probably regrets in the morning," he captioned one Story. But by the video series' happy ending, he seemed to be up for round 2.
"Life is an exploration. Let's go."