Channing Tatum Shares 1st Photo Of Daughter's Face In Sweet Post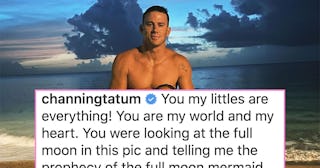 Channing Tatum/Instagram
Channing Tatum shared a sweet photo with his daughter Everly's face for the first time
Deciding how much to share about our kids on social media isn't an easy question for any parent to answer, but it's even more complicated for celebrities, whose every post can reach millions and millions of people. That may be why actor Channing Tatum (with a very respectable 16.8 million followers) hasn't shared any shots of his 8-year-old daughter Everly's face — until now.
Tatum dropped a surprise pic on Instagram showing him and his daughter standing side by side on a beach. "You my littles are everything! You are my world and my heart," he captioned the pic (and if you just swooned over Magic Mike himself being the sweetest father ever, you're not alone).
"You were looking at the full moon in this pic and telling me the prophecy of the full moon mermaid and then we ran into the water and looked for her and played with glow sticks in the night water calling out to the mermaids. you said you touched a bald headed mermaid and saw a tail. Haha one day you will read this and i hope laugh. We have fun," Tatum wrote. I can't blame him for wanting to capture that moment forever in an Instagram post, because it is just too cute.
Over the years, Tatum has only posted pics of Everly covered up in costume or from the back.
Everly's mom Jenna Dewan has largely done the same (though when she welcomed son Callum last year with her new partner, she began posting pictures of him regularly, which may have opened the floodgates to feature Everly, too).
Fans were quick to notice the change in protocol and freaked out over finally seeing the gorgeous Everly, flooding the comments with heart-eyes emojis.
"FINALLY WE GET TO SEE THIS SWEET PRINCESS' FACE," one rejoiced. Many others, of course, were more interested in Tatum being shirtless in the photo, but this article is G-rated, so we won't focus on that.
Who knows whether Everly will become a more regular feature of her famous dad's Instagram from now on — but fans will certainly be happy if she does. And if not — they can turn to the children's booking Tatum wrote, The One and Only Sparkella, which was inspired by his little girl.
Tatum announced the book last summer with an adorably hilarious photo of himself wearing fairy wings, surrounded by stuffed animals that presumably belong to Everly.
"Guys, I don't know about you but things got a little weird for me in quarantine. I ended up accidentally locking myself in my 7 year old daughter's room. And I ended up finding my inner child. So this is what I created for my little girl. From what is, I guess, the little girl in me," he wrote.
No matter how many (or how few) pictures he posts of Everly, it's clear that Tatum is loving being a dad.