Channing Tatum Gives Gas Station Attendant Her Own 'Magic Mike' Dance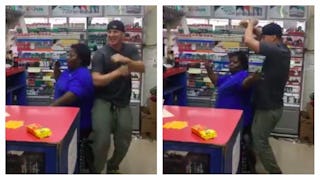 Image via Facebook/ Channing Tatum
Channing Tatum FB lives a gas station pit stop, and things turn up
Channing Tatum made a stop at a Sunoco station in Statesville, North Carolina yesterday. His companion started streaming him on Facebook live — and things got extra fun for the luckiest woman alive, a.k.a. Sunoco gas station attendant, Beatrice.
The internet is jealous. We're all jealous.
"Nothin better than a little dance party," Tatum writes. "Thank you, Beatrice
"
The video is six minutes long, but Page Six pulled out the best part here; Channing's performance for Beatrice. He makes his way behind the counter, the music comes on, and they start to dance.
At one point, Beatrice suggests just the two of them go find a party. WE LOVE HER.
Just when you think you can't love Channing Tatum more… nope that's not a thing. You can always love Channing Tatum more.
https://twitter.com/jetpack/status/895712188442091520
The entire internet wishes they were Beatrice right now… do you blame them?
https://twitter.com/jetpack/status/895820914067206144
This pretty much sums it up…
https://twitter.com/jetpack/status/895784426566803458
This article was originally published on