Channing's New Girlfriend Looks Exactly Like Jenna, Sorry Not Sorry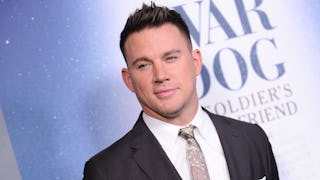 Image via Jason LaVeris/Getty Images
Channing Tatum is now dating a singer who looks just like Jenna Dewan
Earlier this year, we lost faith in real love and our hearts collectively broke when Channing Tatum and Jenna Dewan announced their separation after nearly nine years of marriage. For those of us who never really got over the end of Detum (Channa? Jenning? Tawan?) there's good news — if you squint and turn your head a little to the side, you can make yourself believe that they're back together.
Because the Magic Mike actor's new girlfriend is basically a carbon copy of his ex-wife.
Although it's yet to be confirmed by his publicist or hers, Tatum's reportedly dating British singer Jessie J. The two were spotted playing mini-golf together over the weekend and a source has confirmed to PEOPLE that the two are a thing.
And, like, whatever. That's fine. We're not at all still stanning for this adorable couple to get back together. Whatever makes everyone happy. It's cool.
But life is moving on for Tatum and he now has what pretty much amounts to Jenna 2.0. Like, it's undeniable y'all.
I mean.
I guess everyone deserves to be happy so I support it. If I must.
But to me, it looks like either the dude seriously has a type — or he misses Dewan to the point of locating (and dating) a near-perfect replica. Believe whatever you like, guys. I know where I stand.
Tatum has yet to comment publicly on his split from Dewan, but she told Harper's Bazaar over the summer that in regard to post-divorce life, she's just excited about the future. "I feel a sense of joy and freedom and excitement, truly, about a new chapter in my life. And I have no attachments to how that's going to look, or what that's going to be. I feel really open, and I feel hopeful."
In announcing their separation, the couple was sure to note that they were "still a family" and totally dedicated to their five-year-old daughter Everly's happiness. I'm sure that remains true no matter who they're dating, but my heart will always be right here pretending this is still reality.
This article was originally published on