Channing Tatum Shares Touching Message After Losing His 'Very First Best Friend'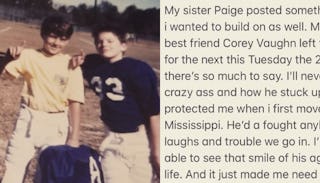 Image via Instagram/Channing Tatum
The actor shared a sweet picture of the two as kids in his tribute
Losing someone you love is devastating, but when it's someone who still had so much life to live, it can be especially difficult. You have years (if you're lucky even decades) worth of memories and mourn, not only your time together, but what was yet to come. Channing Tatum shared a touching tribute about a loss he experienced and included a powerful reminder about the importance of staying in touch with the special people in your life.
"My very first best friend Corey Vaughn left this world for the next this Tuesday the 21st," Tatum wrote on Instagram. "Man there's so much to say." The actor explained that he was just six years old when his family moved to Mississippi and Vaughn befriended him.
https://www.instagram.com/p/Bm2Pbe-h-10/?utm_source=ig_embed
"I'll never forget his crazy ass and how he stuck up for and protected me when I first moved to Mississippi," the 38-year-old recalled. "He'd a fought anybody. All the laughs and trouble we go [sic] in. I'll never be able to see that smile of his again in this life."
The father of daughter, Everly, told People earlier this year that his family moved around a lot as a child, which is likely why Tatum remembers having such a good friend in Vaughn. "We moved to Mississippi for a little while, Pascagoula, Gautier, and then Florida. All around the South. Anywhere where they say y'all. That's where I call home," he said.
https://www.instagram.com/p/Bi9_dOwhdkm/?taken-by=channingtatum
Then Tatum took a moment to remind everyone the importance of staying in touch with those you love. Even if you haven't seen someone in years, if you are thinking about them, take a minute to reach out and let them know you love them. "It just made me need to remind everybody don't put off anything," he wrote. "Seeing a friend, or even calling or texting. You never know what's next."
The actor opened up earlier this year about splitting from his wife of nine years Jenna Dewan, saying, "There are no secrets nor salacious events at the root of our decision — just two best-friends realizing it's time to take some space and help each other live the most joyous, fulfilled lives as possible."
Tatum finished off his tribute by reminding those that loved Vaughn his life should (and will) be celebrated. "Corey would have (wanted) us to laugh and raise hell in his wake and have as much joy as anyone can make," Tatum said. "He sure did."