Channing Tatum Lost A Bet And Had To Post A Nude Insta Pic And TBH We're All Winners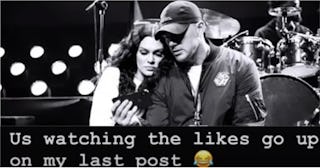 Channing Tatum via Instagram
He may be a loser but we're all winners here
Channing Tatum is, hands down, one of the loveliest creatures to ever grace the Earth with his presence. He's an actor, singer, and dancer best known for lighting up the stage (and our hearts) in the Magic Mike films. While we thought we'd seen everything there is to see of him, it seems his girlfriend, Jessie J, decidedly disagrees.
"I lost a game of Jenga to Jessica Cornish," the 39-year-old father of one wrote. "The loser (me) had to post a picture the other person (Jessica Cornish) picked… Smh and fml… I'm never playing Jenga with her ever again." If you're holding anything hot right now, you may want to set it down so you don't burn yourself or any small children climbing on you. Behold.
https://www.instagram.com/p/Bw7vqLrFkHi/
As you can see, Tatum is standing in all his birthday suit glory while water drips off his muscles, hands strategically covering the area meant only for Jessie J herself. The "Bang Bang" singer commented on the photo shortly after it was posted, saying "Sharing is caring," and really, we couldn't agree more.
Tatum and Jessie are clearly enjoying the fun fallout from their little photo bet. He shared this adorable pic to his Stories shortly after.
They're seriously cute together.
The pair have been dating since last year, shortly after he and then-wife Jenna Dewan announced their separation after nearly nine years of marriage. They share a daughter, Everly, who is five years old. Though we were all distraught because they seemed like the perfect couple, it goes to show the only people who really know how strong a marriage is are the people in it. As it should be.
Jessie J wasn't the only one to chime in. Dax Shepard showed his appreciation, commenting, "God damn…look at those QUADS!!!!" while actor Marlon Wayans said, "I been there… but my Jenga game is dope as fuck." I think I speak for everyone when I say we are so, so glad Tatum's is not.
https://www.instagram.com/p/Bi9_dOwhdkm/
Though they rarely gush online about each other, the actor penned a sweet message to her last month for her birthday. "Wishing you the happiest day filled with all the love and all the light. You came into this world on this day and lit it on fire," he said. "You have blessed our eyes, our ears, our hearts and our lives. So thank you for just being you. You are so very special. Happy birthday Baby."
If this photo wasn't enough Channing for you, the actor announced earlier this year that Magic Mike is coming to Broadway. "This. Is. Happening. Get ready for Magic Mike… THE BROADWAY MUSICAL. World premiere at the Emerson Colonial Theatre in Boston this November. Tickets on sale TODAY," Tatum tweeted.
For those of us who can't see him in the flesh, here's hoping Tatum continues his unlucky streak and there's more where that came from. Also, thank you Jessie J. Thank you very much.