Channing Tatum Is Taking A Stand Against The Weinstein Company, Too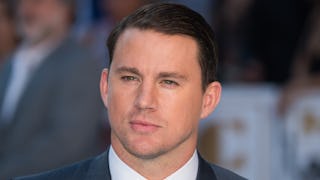 Image via Samir Hussein/Getty Images
The actor says he won't work with The Weinstein Company again
Channing Tatum is speaking out against Harvey Weinstein and has announced he will no longer work on a film that was to be produced by the disgraced mogul's company. He joins actor/director Kevin Smith in adding his voice to the men of Hollywood who are not only condemning Weinstein, but refusing to work with him in the wake of extensive sexual assault and harassment allegations.
In a Facebook post yesterday cosigned by his producing partner, Reid Carolin, Tatum made clear where he stands on the kind of behavior Weinstein has been accused of by a growing list of famous women (at last count, over 40 have spoken out).
"The brave women who had the courage to stand up and speak their truth about Harvey Weinstein are true heroes to us," he writes. "They are lifting the heavy bricks to build the equitable world we all deserve to live in."
The heavy bricks he refers to, of course, are the women putting themselves out there and sharing horrific things that happened to them at the hands of Weinstein in hopes that it will put a stop to this kind of disgusting behavior once and for all.
Tatum explains his plan to abandon a project he was working on with the Weinstein company. "Our lone project in development with TWC— Matthew Quick's brilliant book, Forgive Me Leonard Peacock— is a story about a boy whose life was torn asunder by sexual abuse. While we will no longer develop it or anything else that is property of TWC, we are reminded of its powerful message of healing in the wake of tragedy."
"This is a giant opportunity for real positive change that we proudly commit ourselves to."
While a number of famous men have taken to social media in recent weeks to condemn Weinstein and his actions, very few have put their careers or ability to generate profit on the line in the name of doing the right thing. So many women have spoken out at great cost, both professional and emotional, but when the perpetrators are almost always men, it needs to be their voices and commitment to doing better added to the conversation in order to effect meaningful change.
It's easy to become bitter knowing that many men in Hollywood likely knew the truth about Weinstein for years, but have only been motivated to speak out now that he's become so toxic to be associated with, but this is a huge step. Men refusing to make money in the name of supporting and believing their female colleagues is a crucial way to show that this behavior will no longer be tolerated and shoved into the shadows.
Tatum ends his post with hope for the future and a call to action. "The truth is out— let's finish what our incredible colleagues started and eliminate abuse from our creative culture once and for all."
This article was originally published on