Things To Do in Charleston With Kids
by Rebeccah Connelly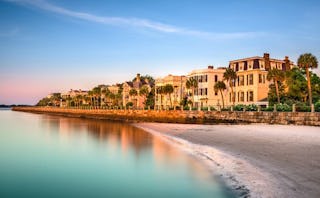 Charleston is world-renowned for its friendly and hospitable people — in fact, "southern hospitality" is a phrase used pretty commonly throughout the region. And that's not just because everyone is gracious to adults. There are plenty of great things to do in Charleston with kids. Combine the sweet nature of the locals with gorgeous beaches, a rich history and some of the yummiest food ever and you've got yourself a perfect family vacation destination. Here are our favorite things to do in Charleston with kids.
Best Places to Stay
Well, you're going to need somewhere kid friendly to sleep while in Charleston, and lucky for you there are great options. If you're looking to add to your hotel reward points (free hotel room for another trip w out the kiddos?), the Courtyard Charleston Historic District is full of urban charm (and has a pool!). More boutique your style? Then you'll appreciate the eclectic decor of the Grand Bohemian Hotel. If no hotel is kid-friendly enough for you, and you need your own house or apartment (mini kitchen? kids get their own bedroom?), Airbnb has some of our all-time favorite Charleston charmers — from houseboats to cottages to houses.
How to Get Around
If you're staying in the downtown Charleston area, no car necessary. This is a walking town. But if you've got places like Folly Beach or Kiawah Island on your itinerary (please say you do!?!), you'll be needing a car. Hertz has a pickup location at the airport and also close to downtown.
Best Experiences in Charleston for Kids
In your former life, you probably enjoyed quiet days on the beach, but let's be realistic and accept that kids need things to do. Put down their tech devices (and yours) and plan a few special experiences that are unique to Charleston. Everything from Sailing Charleston Harbor to Haunted History Tours to Walking Tours to Cultural Journeys of the city can be booked beforehand.
Best Attractions for Kids in Charleston
Once you've arrived, head to the South Carolina Aquarium. Located directly on the beautiful Charleston harbor, the aquarium is educational in mission and style, a total must-see. There are examples of marine life and ecosystems from the upstate of SC to the shore and beyond. The biggest exhibit includes a great ocean tank housing thousands of different species of fish as well as sharks and a loggerhead sea turtle.
While the aquarium does not actually keep Atlantic Bottlenose dolphins inside, generally all you need to do is walk out onto their terrace and you can watch them in their natural habitat, which is even better if you ask me. Check out their website for special offerings, and if you have the time, you can also take a behind the scenes tour of the Sea Turtle Hospital, which helps rehabilitate and release sea turtles from all over the east coast.
The Charleston Water Taxi offers a unique way to see the area. Even though Charleston is super walkable, sometimes you just need to take a load off. The Taxi is cheap ($10 – ride all day!) and is a great way to see the Holy City from a different perspective. Again, the dolphins are everywhere, it only takes about 30 minutes to get across and if you park on the Mt. Pleasant side of the harbor, parking is ample and free, both of which are rarities in our lovely city by the sea.
Also conveniently located on the Charleston Harbor is Patriot's Point. The crown jewel in this naval museum complex is the USS Yorktown, a heralded aircraft carrier turned war memorial. Your kids will love this one.
Not only is the ship gigantic, there is so much to see. Not much of it is off-limits, so you really do get to check out all the good stuff, plus there are aircrafts, a flight simulator and other touch stations that bring the experience alive. Note: if it is August or September when you visit, be warned – there is no climate control and it's hotter than seven hells.
The Children's Museum of the Lowcountry is a great family-friendly place to visit in Charleston. Located on the Meeting Street "Museum Mile," the children's museum is perfect for taking a breather from all that walking around Charleston with kids in tow. There is an enormous art room, a medieval "castle" for pretending, puppets and dress up. There's a water room (plastic aprons provided), a grocery store, a fishing boat replica and many other stations for kids to play. There are always lots of kids at the museum, so your child will basically have instant friends to hang out with. The staff is super friendly and helpful, making this stop a must, especially if you have kids under ten.
Outdoor Activities in Charleston for Kids
The Arthur Ravenel Jr. Bridge, locally known as the Cooper River Bridge, is a beautiful and very pedestrian friendly bridge that is suitable for almost anyone to walk on. Four to five year olds and up could swing it at a leisurely pace. It's free, it's gorgeous and it provides an amazing view.
You can see for several miles out into the ocean and beyond. There is always a breeze up there and it's perfectly safe – the guard rail is very high and there is a thick and tall cement barricade between auto and foot traffic. There is also a wonderful park complete with playground and pier near the base of the bridge on the Mt. Pleasant side, perfect for spending an afternoon doing something fun and free!
A real treat for the kiddos is fossil hunting. Charleston Fossil Adventures offer a range of outdoor activities that ensure everyone in the family will go home with a fossil. Choose between beach adventures (where you're sure to find shark teeth or ice age remains), or decide on kayaking your way to fossil sites. It's something different that will thrill the kids.
If you're interested in visiting a plantation, Boone Hall is located in the East Cooper area of town. Recently made famous (again) by being the location for the nuptials of Blake Lively and Ryan Reynolds, Boone Hall has a world famous avenue of oaks and also has tons of hands-on activities perfect for engaging kids. There is lots of scenic space, perfect for picnicking with your children, or just letting them run off some steam. Most importantly, Boone Hall offers educational programs on the plantation's history with slavery. It's a great opportunity to teach the kids about this dark side of history in a kid-friendly space.
.
One of the biggest draws of Charleston is the beach. Charleston is fronted by several barrier islands and therefore we have some spectacular beaches. There are county parks located at Kiawah and the Isle of Palms. You can buy a county park pass every year solely for beaching it. Parking, restrooms, showers and snack bars make the county parks an amazing resource for visiting families.
There are several other awesome public beaches as well, including Sullivan's Island, Folly Beach and Edisto Beach. Edisto is typically the least crowded but it's also the furthest away from Charleston. Long story short, you can't go wrong with any of these because of the built-in entertainment and the affordability.
The Charleston peninsula is where the historic district is in all its fabulous glory. It is extremely walkable but has horrendous parking, what with being four hundred years old and all, and the parking enforcement people do not play. Do yourself a favor and leave your car in a parking garage and get out on foot. Wear comfortable shoes and sunscreen. If you come in the summer, it is extremely hot – stay hydrated!
Best Restaurants in Charleston for Kids
There are so many great places to eat in Charleston, and many family-friendly. Here are just a few of our favorites.
Vickery's– Located on Shem Creek in Mt. Pleasant, Vickery's has good food, reasonable prices and is totally low-key and casual. The view is amazing – shrimp trawlers come and go all day long, you can walk the docks where they pull in to sell the seafood, there are almost always dolphins to watch and they have the best Bloody Marys in town.
Poe's Tavern– At one point, Sullivan's Island was home to author Edgar Allen Poe, who apparently was known not only for his gift of dark storytelling, but also for his love of good food and drink as well. Taking a cue from the writer, Poe's is located about a block from the beach and has amazing food. The vibe is casual and relaxed, the food is delicious and the location is awesome.
Hominy Grill, The Kickin' Chicken and Mellow Mushroom are all awesome. I have these lumped together because they are all casual, all yummy, all reasonable, all located on the Charleston peninsula, all "local." Kickin' Chicken has great sports watching without being somewhere you wouldn't take your kids and super delicious wings. Mellow Mushroom has great pizza and a laid back vibe and head to Hominy Grill for amazing local/regional food including world famous shrimp and grits. Yum.
Best Things to Pack for Charleston
As moms, we are also the family packing experts (along with travel agent, nutritionist, and homework do-ers— none of which we score points for). Ask my partner, who knows that nobody can roll, stuff and minimize the way I can when it comes to packing for the fam.
There are a few must haves for my trip to Charleston starting with the most comfortable walking shoes for all the touring (and chasing kids) around the city. A good, lightweight travel bag is a necessity, of course, with tons of compartments and pockets since I'm also in charge of holding everyone's crap (his wallet, her iPhone, you get it). Since I always need a sweater, I packed my Lilla P French Terry open front seasonless cardigan (designed by Charleston native Pauline Nakios), to wear on sunset cruises and early morning coffee runs. And sunscreen, always important, came by way of mineral powder sunscreen. This is the sunscreen that lives in my purse and gets brushed on (versus gooped on) so even the kids won't mind a quick brush of sun protection while touring around. And for the trip to Folly Beach? A mom-friendly swimsuit with a print cute enough to prove that we moms are still "cool" no matter where we travel (and how our kids see us).
Although we only recommend picks we really love, we may earn a commission on purchases made through links from our site.
MORE: All the Things You Must See in Atlanta With Family
Best Places to Visit in Louisville With Kids
Things to Do in Beaufort With Family
This article was originally published on