Charlize Theron Talks Motherhood: 'Sometimes I Lose My Mind'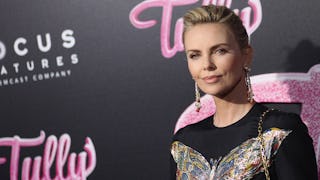 Image via Getty Images/ Tommaso Boddi/WireImage
Theron thanks her mom for keeping her grounded
Charlize Theron embodies everything that's glitz and glamour about Hollywood. Besides being drop-dead gorgeous, she's an amazing actress, producer, and also a single mom to two kids. If you're thinking, "how can she possibly do all that and not be completely worn out," you'd be right.
The Oscar winner and mom to Jackson, six, and August, two, opened up this week about the struggles of raising kids and how she couldn't possibly do it without her village — her mom, Gerda Maritz. "Raising kids is not through rose-colored lenses. There is real grit to it," the 42-year-old actress told US Weekly at the Tully premiere in Los Angeles. The movie, which opens nationwide in early May, depicts motherhood in its most honest, exhausting, emotional form and Theron absolutely nails it, drawing off her own life.
She says when things get overwhelming for her, it's her mom who's the voice of reason and the one who helps her gain perspective. "You know what, tomorrow is going to be a new day. It's not the end of the world," Maritz tells her. "Sometimes I lose my mind especially in a car, like when we're on a road trip or something. She'll look at me and laugh. Then she'll say, 'It's just a moment. It's going to pass. It's going to pass.'"
Lucky for Theron, her mom lives just up the street from her and is there to help her get through the thick of motherhood. She told ELLE when she adopted her kids, she knew she'd need to lean on her mom for support. "I knew that I would have to have my mom help me if I was going to do this as a single parent. To not acknowledge her in co-parenting my children would be a lie," she said.
To get into her role, Theron also gained close to 50 pounds for Tully. "I wanted to feel what this woman felt, and I think that was a way for me to get closer to her and get into that mindset," Theron told Entertainment Tonight. She revealed in addition to eating In-N-Out for breakfast, she would wake up in the middle of the night and "have a cup of cold macaroni and cheese just next to me. I would wake up and I would just eat it. I would just, like, shove it in my throat."
Of course Jackson and August had something to say about that. "My kids still refer to this movie as the movie where mommy had a big belly," she joked. "There's nothing fun about that."