Charlotte Russe Declares Bankruptcy, Closing More Than 100 Stores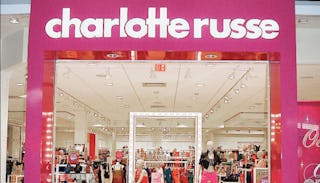 Image via Cr.sf.olm [CC BY-SA 3.0 (https://creativecommons.org/licenses/by-sa/3.0)], from Wikimedia Commons
Nearly 100 Charlotte Russe stores are now slated to close
Remember the mall when you were a kid? It might have housed the Emporium, KB Toys or a Bon Marche. All those stores are now nearly forgotten relics of a time when the mall was the hub of a town's economy. In 2019, with a changing economy that's moving away from consumerism and more and more shoppers heading online whenever they have buying needs, malls are dying. Charlotte Russe, a mall staple for generations, just declared bankruptcy. It's only the latest blow to malls nationwide.
Charlotte Russe filed for Chapter 11 bankruptcy protection this week, and will close 94 of its nearly 500 stores.
It joins a number of other mall stalwarts that have struggled financially in recent years. Just a few weeks ago, Gymboree announced that it will close all of its 900 locations following bankruptcy filings. Last year, Toys 'R' Us shuttered all of its remaining stores amid years of financial trouble. Claire's and David's Bridal also declared bankruptcy in 2018.
Why are malls dying off? No one knows for sure, but there are plenty of theories.
The prevalence of online shopping has to be a factor. More and more, shoppers are turning to Amazon and store websites, opting to have items delivered to their doors rather than spend a full day at the mall. It's definitely a convenient way to shop, and free delivery and easy returns have made online shopping easier and easier in recent years. It's getting harder and harder to find a reason to leave your couch let alone your house knowing that basically anything is available at the click of a button. You don't even need to wear real pants.
There's also the millennial trend of valuing experiences over things. While Gen X flaunted its wealth by collecting name brand clothes and the newest gadgets, millennials are far more likely to spend their money on travel and other experiences, from themed runs to music festivals. Wandering the mall simply doesn't hold the same appeal to this crowd as the generation before it.
And more and more, people, especially young ones, are seeking out lifestyles in dense, walkable places. Malls are practically a mascot for urban sprawl, typically located outside city centers and surrounded by seas of parking lots.
All these shifts in consumer behavior spell a landscape where malls are no longer hubs, but dying shells of their former selves. Credit Suisse estimates one in four of America's remaining 1,100 malls will close in the next five years. Dead malls are already standing abandoned or being demolished in countless towns across the country.
Who knows if a new kind of gathering place will replace what malls used to be, or if that just happens online now. In this age, where everything from clothes to groceries to a date is just a few phone taps away, the era of malls is both nostalgic and clearly outdated. Charlotte Russe's bankruptcy is the latest blow to malls, but it won't be the last.
This article was originally published on