This Ridiculous School Bathroom Policy Has Girls Bleeding Through Their Pants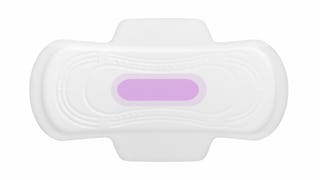 Image via allanswart / Getty
A whole network of Chicago private schools is under fire for "dehumanizing" policies
A shocking NPR report has shed light on what it calls "dehumanizing" discipline policies at a network of Chicago charter schools. One of the most infuriating findings is that the school doesn't allow girls to freely take bathroom breaks, resulting in many of them bleeding through their pants at school because of limited access to period supplies.
Seriously, what?
"We have [bathroom] escorts, and they rarely come so we end up walking out [of class] and that gets us in trouble," an anonymous student texted to an NPR reporter. "But who wants to walk around knowing there's blood on them? It can still stain the seats. They just need to be more understanding."
Rather than allowing girls enough bathroom breaks to prevent bleeding through their pants, NPR reported that they were instead allowed to break the school's dress code and wear sweatshirts tied around their waists to hide the blood stains. An email was reportedly sent to staff with the names of girls who were allowed to violate the dress code in this way without receiving any disciplinary action.
A spokesman for the charter schools confirmed to HuffPost that the schools use bathroom escorts during class, rather than a hall pass. And if it's true that those escorts don't show up often enough for girls to change their pads and tampons, there are serious health risks here — not only is it unhygienic for period blood to be coming into contact with surfaces like desk chairs, but leaving in a tampon for too long can cause toxic shock syndrome, a deadly infection. But Constance Jones Brewer, president of the Noble Network of Charter Schools, denied NPR's claims that girls aren't allowed to use bathrooms enough to deal with their periods.
"Let me be clear – Noble absolutely accommodates our students during menstruation, including bathroom trips whenever the student needs one," Brewer told HuffPost in a statement. "This is the same accommodation as high schools everywhere, and I would tolerate nothing less from my organization. We love our students and it is our sacred responsibility to ensure their health and safety. We also know that stains are still not 100% preventable for factors that are private to each student, but when they happen, our schools provide supportive solutions as quickly as possible."
But Scott Cameron, executive editor of the Illinois Newsroom, the NPR affiliate that reported the story, says the schools are now just trying to save face.
"Our story focused on a range of responses to a previous piece about discipline policies at Noble schools," Cameron said in his own statement. "This issue was one part of the response. As we previously reported Noble discipline policies vary by campus. Sources on several different Noble campuses independently shared experiences about a lack of bathroom access. Additional sources also came forward with similar experiences after publication. We stand by the story."
The Noble Network of Charter Schools has 18 campuses that serve 12,000 students in Illinois. Its students are predominately black, and one teacher told NPR anonymously that school administration treats the students "like animals."
"One student says it best: 'When you treat us like animals, what do you think we are gonna act like?'" the teacher said.
But if these reports are true, NPR is right. This is a dehumanizing and unacceptable way to treat young women in school.