49ers Cheerleader Takes A Knee During The National Anthem
by Christina Marfice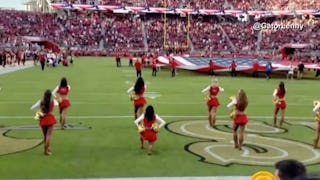 Image via Today / Twitter
This appears to be the first time a cheerleader has participated in NFL protests against racial injustice
It's been two years since former NFL quarterback Colin Kaepernick began his ongoing protest against racial injustice and police brutality toward people of color by kneeling for the national anthem before his games. Various other players and even some fans have since participated as well, but at Thursday's game between the San Fransisco 49ers and the Oakland Raiders, an NFL cheerleader participated for the first time.
In photos and videos taken from fans and reporters alike, the unidentified 49ers cheerleader is seen kneeling on one knee while the rest of her squad stands in formation around her. She still participates in all the movements that go along with the anthem, but from a kneeling position instead of standing.
Just like all the other aspects of this protest, reaction to the cheerleader's actions have been pretty mixed.
There's been a lot of controversy surrounding the protest and how it's spread throughout the NFL. Earlier this year, the organization announced that it would fine players who knelt during the anthem, but that change was met with swift blowback from the players' union.
What is a peaceful, respectful, silent protest that falls well within players' first amendment rights has drawn criticism from fans, team owners and conservative politicians, who have tried their hardest to somehow make this about American troops. In reality, the protest began because Kaepernick felt that people of color weren't treated equally in this nation, and he didn't want to show tacit support for a country that didn't care about so many of its own people.
"I am not going to stand up to show pride in a flag for a country that oppresses black people and people of color," Kaepernick told NFL Media in an interview after the first game where he protested during the anthem. "To me, this is bigger than football and it would be selfish on my part to look the other way. There are bodies in the street and people getting paid leave and getting away with murder."
Kaepernick hasn't played for the 49ers since this all began, but he recently became the face of a major Nike campaign. As for what will become of that mystery cheerleader? Only time will tell, but here's hoping she isn't punished for exercising her right to stand up for what she believes in.