Child Homelessness Is On The Rise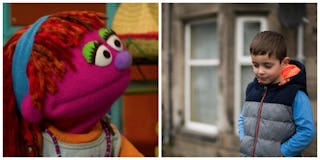 SesameWorkshop/StevenRobinsonPictures/Getty
In a recent episode of Sesame Street, viewers learned that one of the show's characters, Lily, is homeless. This is not the first time we have seen Lily and her family struggle; the children's program used her in 2011 to shine a light on food insecurity, another common issue many experience but are afraid to talk about.
In this new episode of Sesame Street, we find out that Lily and her family are now homeless when she expresses sadness at no longer having the purple bedroom in her old apartment. She and her family are living with friends, bouncing from one place to another, and she is longing for a sense of home.
Lily is far from alone. In fact, the National Center for Family Homelessness reports that 2.5 million children in America are homeless, and half of those kids are under the age of six. That equates to 1 in 30 kids living in our country who do not have a place to call home. What's even more startling, is these numbers have been on the rise since the housing collapse and Great Recession of 2008 and 2009, and they continue to increase each year.
Federal funding isn't keeping up to meet the needs of those impacted, teachers are scrambling to support their students, and the stigma attached to homeless and housing-insecure youth and families is added baggage people don't need.
Sherrie Westin, the president of Global Impact and Philanthropy for Sesame Workshop, wants other kids who have experienced homelessness to feel less lonely.
"Recently, we've created a lot of content to help children who are experiencing traumatic events," said Westin. "And we have a unique ability to look at these issues through a lens of a child. So that's why we're stepping up."
Teachers have been asked to step up too. During the 2016-2017 school year, 40,000 schoolchildren in Washington state were homeless at some point. And in New York City, 1 in 10 students lack stable housing. According to Governing, "New York City now has more housing-insecure students than the entire population of Albany." State funds, social workers, and resources are stretched thin and it's not uncommon for teachers to not only identify a struggling student, but to act outside of their job description.
Sonya Shpilyuk is English teacher at Watkins Mill High School in Maryland's Montgomery County and will buy healthy snacks at Costco to keep in her classroom for kids who need them. She says she sees the toll homelessness takes on her students. "They're tired, and they're hungry, and it's stressful because they don't know where they're going after school."
While there is a growing movement among adults who consider themselves to be houseless and not homeless, when children are involved it complicates things. When kids are stressed, they struggle to focus, their grades suffer, and they may be seen as troublemakers or are diagnosed with learning disabilities. Homeless and housing-insecure students are more at risk to miss school, change schools, or drop out altogether. When a family struggles to find a place to sleep at night, they are more likely to lack reliable transportation and access to the health care they need. Survival becomes the focus, and while the best place for a student may be school, access to education becomes a luxury.
The Washington Post points out that Housing and Urban Development, HUD, is set up to help homeless adults and not children. The policies do not fit those kids who are living in motels or with friends, so there are plenty of homeless youth who are not considered homeless according to the resources and services that could help them. Schools are using homeless liaisons, nonprofits, and state funds to help their students get books, food, and clothing. But there is only so much they can do and resources are limited.
Homelessness affects families across the country, in both urban and rural settings, and across all backgrounds and races. But of the homeless youth in this country, 40% identify as LGBTQ. This is on us America, because queer kids are being kicked out of their homes or running away from unsupportive and abusive situations. Accepting caregivers and parents could go a long way in reducing the number of homeless youth.
Homelessness and housing-insecurity is a societal problem. Our resources are being tapped out because of unexpected job losses, eviction, expensive food and housing costs, lack of funding, and bigotry. Adults need to be held accountable, but some things are out of our control and we as friends and neighbors need to show compassion and lend a helping hand when we can.
While there may seem like plenty of people to blame for the rising number of homeless children in America, the children should not be part of those accusations. Sadly, they often bear the brunt of the impact. When kids like the Muppet Lily don't have a sense of grounding, it's important to remind them that home is more than a bedroom, it's a place where they feel loved. "Home is just where the people you love are," Grover told Lily.
The solution is not this simple, but while teachers and community members scramble to connect students and families to resources, we can change the way we view homelessness. These kids and their families are not bums looking for a handout—most homeless people are not—they are our neighbors and our kids' classmates and friends. They need our empathy, not our judgment.
This article was originally published on