Child Life Specialists Are Frontline Workers Who Are Often Overlooked
by Elaine Roth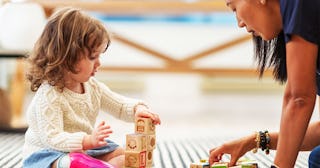 FatCamera/Getty
Picture this: your child has fallen off his bike and needs stitches in the emergency room. He's scared. He's in pain. The room a stranger in scrubs leads him to is full of machines that look better suited for a sci-fi movie than a room for a little kid who needs stitches. Your child refuses to enter the room. Then, someone comes into the room and removes the unnecessary machines and explains the other potentially terrifying machines to your child. Your child isn't afraid to walk in anymore.
Now picture this: a parent has just received the news no parents wants to receive—a diagnosis for their child that will mean endless hours in the hospital and countless treatments. The family—parents, patient, and sibling—are gathered to process the news. Sibling is as scared as patient and parents, but too young to know how to process the news and begins to act out. Someone enters the room and supports sibling, helps that sibling make sense of what's happening inside that doctor's office and understand all those emotions bubbling up. Sibling stops acting out.
In both cases, that someone is a child life specialist–a crucial, yet often overlooked part of frontline pediatric medical care.
Scary Mommy spoke with Bailey Kasten, COO and Interim CEO of the Association of Child Life Professionals, about the role of child life specialists and new updated guidance recently released by The Academy of American Pediatrics on the impact of child life specialists in medical environments.
Child Life Specialists Tap Into The Natural Resilience of Children
"Child life specialists are trained professionals with expertise in helping children and their families overcome life's most challenging events." They have experience in both child development and the medical procedures commonly given, which allows them to help families cope in stressful medical situations. They explain diagnoses, provide bereavement support, and tap into natural resiliency of kids to provide better coping for whole family, says Kasten.
They use medical play, distractions, and developmentally appropriate language to make sure child patients, parents, and siblings understand what's happening. Their work is everywhere, and they can be found in the emergency room, in the transition to inpatient status, and even in the room before a painful procedure—everything from MRIs to needle pokes.
Child life specialists may work with a family for an hour or for months and years, in the case of chronic illness. The length and depth of the relationship depends on what the family needs and how well the patient and family are coping. The intensity and acuity of the illness are not the only factors, confirms Kasten.
Child Life Specialists Are Emotional First Responders
In noting the special role of child life specialists, Kasten noted that they were equivalent to "emotional first responders." Child life specialists are trained to assess what's happening in the hospital room and to provide emotional support to pediatric patients and their families, and also to provide support to the children of adult patients.
Kasten notes that medical environments can be traumatizing. Child life specialists are trained to help prevent and mitigate that trauma, either by making the experience less scary and more fun, or if not fun, then at least relatable. "They are there, while it's happening, in the moment, to prevent and mitigate additional trauma from medical environments," says Kasten.
Child Life Specialists Support The Whole Family—Including Siblings
What's unique about child life specialists is that they support the entire family, including siblings. Kasten notes that in extremely acute accidents or long-term care situations, the siblings may struggle and need support, as well.
That support may look like helping the sibling understand the diagnosis, helping them make space for whatever emotions they are feeling or thoughts they are having, and helping them feel useful and included.
For parents, child life specialists can show parents techniques to hold their child to give the most comfort and can teach parents how to advocate for their child. Child life specialists can empower parents by providing them with a sense of agency and control in a situation that feels overwhelming, says Kasten.
Child Life Specialists Can Be Found Outside of Hospital Setting
Child life specialists are found not only in pediatric hospital settings (either standalone or as a part of a larger hospital) but also in hospices, child advocacy centers, and in private practice facilities. Kasten would love to see child life specialists in every medical setting—including pediatrician's offices and clinics. She notes that having a child life specialist to help calm down children before even simple procedures has a positive effect for providers.
New Guidance By The AAP Suggests Child Life Specialists Are Critical In Medical Environments
The new guidance states that "Child life collaboration with the entire interdisciplinary team is essential to meeting the overall health care needs of children and families."
That truth has been tested time and time again, and particularly in a COVID world. Child life specialists have turned COVID testing tents into space camps to make the experience easier for pediatric patients, they've been the in-person support for parents who are isolated with their child patient due to limitations on visitors, and they've helped when the layers of PPE worn by healthcare professions have created a frightening sense of otherness that is intimidating to children (and adults!)
Child life specialists understand how to work within confines of safety protocols and infection control and still make a situation child friendly, says Kasten. They work with all pediatric patients, up to 21 years old, which is especially important when considering that teenagers can be difficult to reach.
The AAP report suggests administrators should consider keeping a full staff of child life specialists seven days a week, according to Kasten.
Parents Should Know These Services Exist
Child life is a free service that is available for all families. Many facilities have these services available, but a large number of families don't know that child life specialists exist. Awareness is key. Knowing child life specialists exist is the first step in ensuring you will receive those services.
"We would like to see increased parent awareness that this is out there and helpful, so parents can get best experience they can for their child," says Kasten.
The truth is: children are resilient, and child life specialists are available to help them tap into that resiliency, in whatever situation comes their way.
This article was originally published on