Child Loss Ruined My Once-'Perfect' Marriage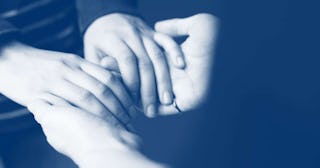 Sarah Pflug/Burst
Trigger warning: child loss
My son's passing has given my husband and I a deeper connection, and it's tried our marriage over the years in more ways than I can count. Nobody else could understand the depths of my loss but my husband. And nobody else knows what it's been like to have to live every moment since that awful day.
We grieved horrifically and beautifully in unison within the earlier days of our son's loss. We wailed together as I laid in my husband's lap on our living room couch more times than I care to remember.
Anything I needed, he was there.
When I was finally hungry after days of being unable to eat or eat without vomiting, he made me the only meal that I wanted. If I wanted to leave our home at some odd hour of the night because I couldn't stand being cooped up in those four walls, he left with me. And whatever I wanted for our son's funeral or burial, he obliged.
He knew the guilt that consumed me from the circumstances of my son's passing — with no cause of death yet, I blamed myself for co-sleeping with him during his sudden and unexpected time of death.
On that awful day, I ran up to my husband in the corner of the hospital room and frantically whispered, "It's all my fault. It's all my fault. It's all my fault."
"This is not your fault. Don't ever say that again," he gently replied before cupping his hands into mine and pulling them to his chest.
I'm still not sure if he realizes how much those words were needed, or if they were really more for him rather than me.
Our son was buried on a Friday, and my husband went back to working 12-14 hour shifts that Monday. His employer would have given him paid leave for two weeks, but he only accepted it for one. I couldn't help but wonder during that time, Why would he do that to me?
I needed him home. Call me selfish, but I needed our world on pause for that extra week. And yet he prematurely pressed play.
We started fighting over miniscule things… like my inability to do the dishes and vacuum in the many hours I had at home while he was working construction during the day and our other kids were at daycare.
He didn't understand that I left the dishes in the sink because I couldn't bear to make a decision about what to do with our son's empty and used bottles. He didn't know that I couldn't vacuum the rugs in the living and dining room because that would make me feel like I was erasing the not-so-long-ago memories of my son rolling around on that shagged neutral carpet. And he didn't understand how guilty I would feel for simply getting up off of that couch to clean a house I willed to stay the same.
He needed our lives to resemble a new normal after child loss, but I wasn't ready. I needed time to wallow, but he desired immediate distraction.
We had lost all forms of communication when it came to child loss. And as a result, it felt like I had nowhere to turn to with my grief. Our son's death was the giant elephant in the room. The only person who could possibly understand my pain was now resistant to openly sharing his hurt, or even allowing me to share mine.
My grief snowballed itself into rage, and we found ourselves in our first screaming match on an early Sunday morning. I could feel the ugliness rising until I exploded. "I WISH YOU COULD HAVE DIED INSTEAD OF HIM!" (As if he, a newly-bereaved father, hadn't thought the very same thing.)
I regretted what I'd said as soon as it flew from my mouth, but I also felt relief in some weird, horrendous way.
It felt like my words had tipped some non-existent and irrational grieving scale in my favor. And I believe it was almost instinctual the way my husband immediately leveled our weights again.
Because without a second to pass, he clapped back at me screaming, "IF IT WASN'T FOR YOU, HE WOULD STILL BE ALIVE!"
And I was certain he had just experienced the same weird, horrendous relief.
We should have stopped there, but we didn't. We allowed our vicious words to linger on unresolved. Now, years later, when the waves of our grief are at the highest peak and oh-so-ugly, the redundancy of these words is uncanny.
Our grief pairs itself with every other aspect of our lives, and we stray from each other a little more each day.
We can't find balance in even the everyday moments of life. And even though we are numb to it all, I'm finding that it's those closest to us who suffer. As our surviving children grow older and grow into their own unique personalities, I find great difficulty in punishing them for their wrongdoings whereas my husband does not. I'm quick to give in because of this nagging voice in my head that asks, What if this moment becomes a final memory?
Some might say it's unrealistic — even morbid — of me to think this way. But I've already made final memories with one of my children without knowing they were final. So tell me, is it really so far-fetched for me to entertain the thoughts that others so easily push aside?
My husband would say yes. And, truth be told, a certain version of me admires him for his strength and ability to press on forward, for his persistence in trying to push me forward.
But I also hate him a bit for it too.
We house the same, profound loss within us … it's identical. But we grieve in a polar-opposite manner.
And as easy as it is to say that we will find each other again, I also know that living through child loss has transformed us into two completely different people. Like two magnets that are made the same, but resist each other when pushed together, despite the force, without fail.
I tell myself that it would be easier to let go if he cheated. If he were a financially unstable husband. Or if he were unjustifiably angry.
But each of our heavy emotions, even when they are raging, are more than valid. And what's even worse? They were brought on by a tragedy that befell without our permission.
For child loss resources, services and financial support, head over to our Scary Mommy Child Loss Resource Page to connect with other bereaved parents who just "get it."
This article was originally published on