Spread The Word About Child Passenger Safety Week And National Seat Check Saturday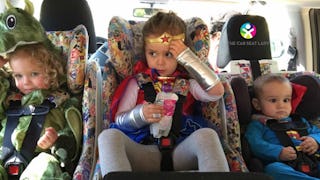 Image via The Car Seat Lady
Do you know whether your car seat is installed correctly? Are you sure your child is in the correct seat for their weight and height, and that they are properly harnessed into it?
These might be among the most important safety questions you need to ask yourself as a parent, and the truth is that although car crashes are a leading cause of death for kids, far too many parents don't take car seat safety as seriously as they should.
That's why the National Highway Traffic Safety Administration has designated September 23-29th Child Passenger Safety Week and Saturday, September 29th National Seat Check Saturday. The idea is to raise awareness about the importance of car seat safety, provide necessary resources, and encourage all parents to attend free car seat check events to ensure that their kids' seats are properly installed.
Yes, please. This is so necessary and important.
"Car seats and boosters provide protection for infants and children in a crash, yet car crashes are a leading cause of death for children ages 1 to 13," a spokesperson for the National Highway Traffic Safety Administration tells Scary Mommy. "That's why it's so important to choose and use the right car seat correctly every time your child is in the car. To maximize safety, keep your child in the car seat for as long as possible, as long as the child fits within the manufacturer's height and weight requirements."
It is the leading cause of death, folks. This is such serious business. Listen, I know that car seats are a pain in the ass. I know kids are a pain in the ass about getting into their seats and letting you buckle them in correctly. But losing our kids is much more freaking worse than these kinds of annoyances.
So please do your homework and make sure your kid in safe in the car.
The National Highway Traffic Safety Administration has some free literature and tutorials on their site that you can get you started with basic information.
And hands down, one of the single best things you can do is go to a car seat safety expert or find a free car seat event in your area (there are going to be a ton of them on September 29 — National Seat Check Saturday). These fine folks will assess your car seat set up FOR FREE, and will also help you strap your kid in correctly. We did that when my second child was born and it was amazing.
You can find a local event here.
Scary Mommy caught up with Alisa Baer, MD (pediatrician and co-creator of the incredible website, The Car Seat Lady) for her top car seat safety tips. The biggest issues she sees in her practice are that parents are not properly harnessing their children in their car seats and that the car seats are not installed properly.
"The child is too loose in the car seat's straps and the seat is too loose in the car," says Dr. Baer.
In terms of secure installation, Dr. Baer says not securing the tether strap on a forward-facing car seat is a mistake that far too many parents make. "One really important thing, for forward-facing car seats, is make sure to always use the tether straps, no exceptions," she explains. Regardless of whether a forward-facing car seat is installed using the seat belt or the lower anchor strap, you always use the tether strap in addition.
Using the tether "keeps the forward-facing child's brain and spine safer," says Dr. Baer.
Making sure your child is tightly strapped into their seat is huge too. Dr. Baer has a fantastic video about it, found below. She demonstrates how to make sure there is no extra slack anywhere around the child's body and how to make sure the chest clip is in its proper place (at arm pit level).
In addition, Dr. Baer says that making sure you don't transition your child too early from one kind of seat to the next is key. Children should be in a rear-facing seat till at least 24 months, she says (the AAP just updated their recommendations to say that kids should be rear-facing as long as possible, even beyond 2 years old, until they reach the highest height and weight requirements for the car seat). They should be forward-facing using a harness until they are at least 5 years old and 40 pounds.
For kids who ride in boosters, they've got to be able to sit properly in their seat (no slouching, no leaning over, or playing with the seat belt) for the entire ride, and your kid shouldn't ditch their booster until they've passed the 5-step-test, found here on Dr. Baer's site.
Listen, I know that all of this can get super tedious. And none of us want to come across as the parent who does nothing but criticize other people's car seat set-ups. But this is a topic where there's really no wiggle room (in the car seat OR the rules!).
And coming across as annoying in an effort to save another kid's life? SO not anything to be ashamed of.
So spread the word about car seat safety. Share all the resources that you can. And if you have any questions of your own, don't hesitate to reach out to a car seat safety expert or attend a free event this month.
This article was originally published on