2-Year-Old Who Lost Her Arm Finds New Best Friend In Adopted 3-Legged Kitten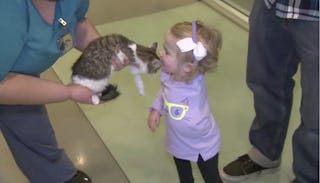 This little girl who lost her arm adopted an adorable kitten with a missing limb.
We all want a companion in life, and it looks like this toddler has found her perfect match. It's a cat — a three-legged gray and white cat named Doc, to be exact — and it's a key player in the sweetest story you'll read this week.
Two-year-old Scarlette Tipton lost her left arm when she was just 10 months old. According to ABC7, her arm was abnormally large at birth, which led doctors to diagnose her with a rare and aggressive form of cancer. After several attempts at treatment, doctors recommended amputation. She's now cancer-free, and her parents, Simone and Matt, have thought about getting her a pet who's also undergone an amputation. Said Simone, "We really wanted to get her an animal that she could kind of relate to, something that she can grow-up with and feel like she has a special bond with."
When the family heard about a kitten who'd recently lost its leg in a neighboring city, they knew they'd found the newest member of their family. The kitten — who was nicknamed 'Holly' by the shelter, but has since had her name changed to Doc — was likely sleeping in the wheel well of a car and didn't make it out in time. Her right front leg was amputated and her harrowing story made the evening news, which is where the Tiptons found out about her.
The family visited the kitten on Christmas Eve, and Simone says the first thing Scarlette noticed was that the kitten had "owies" like her. The pair bonded immediately and by the following Wednesday, the adoption was official. Scarlette renamed the kitten Doc because her favorite show is Doc Mcstuffins. The Tiptons told Today, "Doc is just as adventurous as Scarlette, and every day it continues to be a perfect match all over again."
It's so sweet that the Tiptons and this kitten were able to find one another, not only because it gives that sweet kitty a chance at a good home, but also because of the incredibly unique bond Scarlette and Doc will share throughout their lives. Scarlette no doubt understands that Doc is special just like her, and it's amazing that she has an animal friend to whom she can relate and find comfort, no matter what's going on in her life.
Matt and Simone not only gave their daughter an incredible new friend, but they also opened their home to an animal who may not have otherwise been adopted. From every angle, this story is one worth celebrating.