September Is Childhood Cancer Awareness Month — Join The Fight!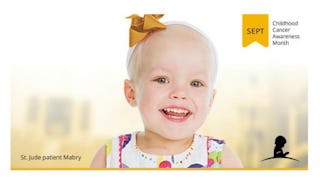 St. Jude patient, Mabry. Photo courtesy St. Jude.
September is Childhood Cancer Awareness Month (CCAM), and all across the country, a variety of events and fundraisers are being held — all to bring about awareness, raise money for pediatric cancer research, and encourage families with healthy children to help make a difference in the lives of those who aren't so lucky. And for mothers like Jen, whose daughter Mabry was diagnosed with acute lymphoblastic leukemia (ALL) at the tender age of 18 months old, it's also a chance to participate in one of over 60 St. Jude Children's Research Hospital® annual Walk/Run events nationwide.
Luckily for Mabry's family, St. Jude was there when they needed it most. Located in Memphis, Tennessee, St. Jude Children's Research Hospital is leading the way we fight, treat, and cure childhood cancers. The hospital sees more than 7,000 patients a year, and no family treated at St. Jude ever receives a bill for treatment, housing, food, or travel.
For Jen, this was a godsend. "The day Mabry was diagnosed with ALL was the scariest moment of my life, but when I walked into St. Jude and saw what our future would look like, and that children are cured here, I was so comforted and relieved. And I never have to worry about a bill, or a co-pay, or hesitating to call a doctor 24/7 because of not being able to pay." Research advancements made at St. Jude have raised the survival rate for ALL from 5% in 1980 to over 90% now.
Founded in 1962 by actor Danny Thomas, St. Jude treats some of the most catastrophic cancers, as well as sickle cell disease, and no child is refused treatment based on race, religion, ethnicity, or ability to pay. Their research efforts go beyond the scope of pediatric cancer, with discoveries being made about ALS, malaria, and even diabetes. Additionally, they're the only cancer treatment center to have a proton therapy treatment center dedicated solely to children.
The $99 million center uses precisely delivered, high-energy particles called protons to kill or shrink tumors while minimizing damage to healthy tissue and organs. Along with brain tumors, proton therapy is used to treat Hodgkin's lymphoma and solid tumors such as Ewing's sarcoma, rhabdomyosarcoma, neuroblastoma, and retinoblastoma. By 2018, officials anticipate 80% of children receiving radiation therapy at St. Jude will receive proton beam therapy.
If you saw Mabry now, a happy 4-year-old twirling around in her favorite princess dress and currently in remission, you'd never know she was ever fighting cancer. Richard C. Shadyac Jr., CEO of ALSAC, the fundraising and awareness organization of St. Jude, agrees: "To hear about the beautiful child that Mabry is, and how bright her future is, and that we are able to be there for her because of the support of the public is great."
Join the fight against childhood cancer this month, and find a St. Jude Walk/Run in a community near you. With a goal of raising $11 million, St. Jude hopes the national walk/run events will bring more attention to pediatric cancer. Shadyac explains, "At St. Jude, we have the highest survival rates for the most difficult cancers. We're constantly looking to increase survival rates. In September, we want to call the world's attention to the fact that cancer remains the leading cause of death by disease in children, and we all need to come together to raise money and awareness. We will not stop until no child dies from cancer."
To find a St. Jude Walk/Run near you, visit St. Jude Walk/Run or join Mabry's Walk/Run team, Mabry's Mission.