Beyond Goodnight Moon: 15 Children's Books You Need In Your House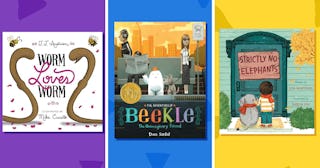 Amazon
Many of us have a collection of books at home for our children. Some of them we received as shower gifts. Some were books we remembered loving as kids. Some are books we all have heard about over the years and end up buying because, well, that's what you do. I wanted to explore some children's books, both old and new, that aren't normally on everyone's list like a certain celestial orb that is bid farewell in the evening. Let's shake up our book rotation, shall we?
Every time I read this with my kids, I choke up. I also cry at diaper commercials and puppy videos so maybe you'll be fine. This is pages and pages of gorgeous illustrations and heartwarming words, reminding us of how big and small the world can be.
This book is filled with gardening tips and a fun story about the importance of community, nature, and hard work.
As imaginary friends are created and chosen by children, one gets left behind. He goes on an adventure, searching a big city to find his kid. This is an adorable oddball story, showing kids that everyone fits in somewhere.
A collection of disgruntled letters to a little boy from every crayon in the box. They're all tired of how they've been treated, some overused and some barely colored with, while others are upset they've been pigeonholed or misused. You can throw in some goofy voices for each crayon and its big personality.
This one brings the giggles. Peanut Butter is new in town and trying to make a friend. No one he meets really meshes with him as he searches for the perfect buddy. The thought of peanut butter and hot dogs will have your kid rolling, and the cute pictures make the story come to life.
Kevin Henkes is one of my favorite children's authors, and this is my favorite book of his. Owen is a little boy with a special blankie he won't let out of his sight. His nosey neighbor gives his parents advice on getting him to ditch the rag, but Owen isn't having it. You'll want to tell Mrs. Tweezers to kick rocks, but this story is sweet with a perfect ending.
When two worms fall in love and want to get married, their friends have questions. Like who will wear a tux? But none of that matters because worm loves worm, and love is love is love.
Because all kids need a reminder of just how amazing they are, and that differences are pretty cool.
The retro-style illustrations in this book are what first caught my eye. Each page is themed with a group of things and their names. I love books like this when you're working on building your child's vocabulary. You can flip through the pages and help them identify the familiar things they recognize.
The concept for these books is genius. Take two badass animals, pair them in a hypothetical fight, then theorize who would win based on science. There are a bunch in the series, like Lion vs. Tiger, Polar Bear vs. Grizzly Bear, and Tyrannosaurus Rex vs. Velociraptor. I haven't read this one yet, but my money is on the killer whale.
While her parents are out, a little girl sulks about spending a boring night with her grandmother. That is until Granny cranks up the tunes and starts shaking what great-grandmother gave her. This is a sweet story about finding fun where you least expect it. It may also inspire other grandmas to bust out their dance moves.
Brigid loves coloring with markers. She begs her mother for a new set, colors her heart out, then begs for another new set, each somehow better than the last. When she convinces her mom to buy a particularly risky pack of new markers, ish goes down. I will recommend sticking to colored pencils in your home for a hot minute after reading this.
Who doesn't love a good story about kindness and friendship? This one is about a boy and his tiny pet elephant, and a girl with a pet skunk. After they are left out of the Pet Club meeting, they start their own club. Three cheers for inclusion, acceptance and friendship!
A boy tries explaining why he is late for school, his tall tale growing larger my the minute. Kids will crack up at all the wild events in this book. Parents can expect some ridiculous excuses will be cooked up in the near future.
This alphabet board book was developed by the National Museum of African American History and Culture and it celebrates all that makes us unique as individuals and connects us as humans.
Reading to our kids is great for their development. We know this. It's nice to have some books around that have a bit more of a story arc than patting a bunny continuously. Getting to enjoy the books with your child as you read to them makes the task all the more enjoyable.
We may earn fees from purchases made via links on this page and affiliated sites. All opinions are our own.
This article was originally published on